View a video tutorial of The Vanishing Point from Photoshop 9 - CS2.




VTC Photoshop Training Videos - Photoshop Training For Photographers



We've been meaning for a while now to review the Virtual Training Company, which offers lots and lots of Photoshop video training. So here we go... (you can find links to over 20 hours of free Photoshop video tutorial clips at the end of this post.)

Virtual Training Company lets you affordably and efficiently master any software application in a matter of days – their training spans the technological spectrum from Photoshop to Dreamweaver and beyond.

VTC offers you the chance to not only benefit from well-organized and well-presented educational materials, but also the opportunity to do so in the comfort of your own home or office. You will receive high quality video training that plays right on your very own computer, and all at a great price.

VTC Online University
You have the option of either purchasing a individual VTC training CD for one of over 400 course titles available or alternatively, subscribing to the VTC Online University, where you will have unlimited online access to all of their training for an annual fee. The cost is very affordable for the Online University, given that you can get access to absolutely everything they offer for only $30 a month.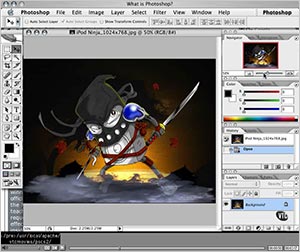 The only difference between purchasing the CDs and subscribing to the Online University is in the delivery of the content. The lessons that stream to your computer from the Online University have been compressed a little more than those on the CD to ensure that the VTC Online University works well for dial-up customers.

Additionally, VTC has developed a fully-fledged Learning Content Management System to organize your training materials for easy access and future reference from a single web-based platform.

As further evidence of their strong commitment to customer satisfaction, VTC has added an IT job-site to their online portal, where you can make use of a job search function and resume databank are free for everyone. Also through this feature, VTC subscribers are also able to advertise their IT job opportunities.

Try Before You Buy
The folks at VTC are so confident that you will benefit from their training that they have gone the extra step of providing the first three chapters of each and every title that they offer available online, completely free of charge. You can browse through these free opening chapters from their main website, see exactly what they offer, and get a sense of how the training is presented – all before you buy.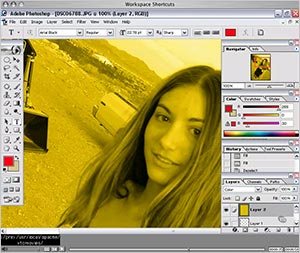 Each course title offers an average of 8 hours of training time, with the entire course available for purchase in a single package. Training is delivered in both audio and video, allowing you to learn easily regardless of your penchant or aptitude for auditory or visual learning.

For both Windows and Mac OS, you will need at least Quicktime 6 and an ISP connection. You can view the content either through a web browser or through a downloadable standalone VTC player, available from the main site.

The VTC Photoshop Training Titles - And Free Clips
Here are the Photoshop titles I found - all of which offer 3 full chapters of free video tutorials. Each link will take you to the product page where you'll find the links to the free video tutorials.
Adobe Photoshop 6 - Andrew J. Hathaway
Adobe Photoshop 6 Advanced Techniques - Rick Martin
Adobe Photoshop 6 for Photographers - Andrew J. Hathaway
Adobe Photoshop 7 - Andrew J. Hathaway
Adobe Photoshop 7/ImageReady 7 Bundle - Andrew J. Hathaway
Adobe Photoshop Advanced Artistry - Jayse Hansen
Adobe Photoshop CS - Andrew J. Hathaway
Adobe Photoshop CS2 - Dwayne Ferguson
Adobe Photoshop Elements 1 - Andrew J. Hathaway
Adobe Photoshop for Photographers (3rd Edition) - Gavin Phillips
Adobe Photoshop for the Web - Rick Martin
Adobe Photoshop Image Restoration - Phil Hawkins
Adobe Photoshop Special FX - Rita Amladi







PHOTO CREDIT: Product shots & logo (© Total Training) plus blur on color pools.
© 2004 Eric Martin of Futura Studios