Buy. Download. Create. Get Dreamweaver CS5 now at the Adobe Store.


Get Dreamweaver, Flash, Photoshop Extended with Adobe CS5 Web Premium.


Get the 30-day free trial on our Dreamweaver CS5 Free Trial Download Page.




Interview With Janine Warner
Host of Total Training For Macromedia Dreamweaver 8
The following is an interview we conducted with Janine Warner, author of the best-selling Dreamweaver For Dummies books, and host of the new HD video series Total Training For Macromedia Dreamweaver 8.


How would you describe the Dreamweaver learning curve for a total beginner?
The challenge with that question is how you define total beginner. When my friend's mother first tried using his computer, she picked up his mouse, pointed it at the monitor and quickly got frustrated that it didn't change channels. If that's how you define a total beginner, Dreamweaver has a steep learning curve.

If you've been using programs like Photoshop or InDesign for years, then it's hard for me to call you a total beginner, and I think you'll find you can pick up the basics and start using Dreamweaver in a weekend (if you have the right training video or books).

Is it easy to transition from GoLive to Dreamweaver - or is it a completely different way of working?
The essentials of Web design are the same in any Web design program. Once you've learned how to create a table to control page layout or how to insert an image, those skills should transfer from one program to another fairly well, even if the tools are in a slightly different place in the interface. That said, switching from GoLive to Dreamweaver is similar to switching from Quark to InDesign. You're going to run into interface and feature differences that may trip you up here and there.

One of the biggest differences is the way the two programs manage the organization of files and folders within a Web site. This is important because when you create links or insert images in a Web site you have to set them with the files and folders in the same relative location on your hard drive as they will be in when you publish them to your server. This may seem a little complicated if you're new to Web design. Fortunately, Dreamweaver manages all this for you but it does it differently from GoLive.

If you've been using GoLive and are switching to Dreamweaver, one of the first things you should get a handle on is the Site Setup process, which is all about identifying your main site folder so Dreamweaver can manage all your links. I cover the site set up feature at the beginning of Lesson 2, and refer to it many times throughout the video because it's the first thing you should do whenever you start working on a new site in Dreamweaver.

Is the Total Training video a complete program that starts you from zero, or does one need some knowledge of Dreamweaver or HTML?
I don't assume anything in this training. Okay, I assume you know better than to use your mouse as a remote control, but I start with a basic introduction to the interface and build from there. I call myself a "techy translator" and throughout the training I try to explain every new term and feature, point out any differences between the Mac and PC versions, and even tell you when I'm using features that aren't specific to Dreamweaver, like Alt+TAB (Cmd+TAB on the Mac). I'm still amazed how many people don't know that fabulous universal key command for switching between open programs on a computer.

There's an entire lesson on HTML, beginning with an intro to HTML tags and structure, but I consider it kind of an optional lesson. You don't need to know HTML to use Dreamweaver (which should be a relief to those of you who prefer not to study hieroglyphics). I teach an introduction to HTML because having a basic understanding is helpful for troubleshooting and understanding why some things work (or don't work) the way you might expect in Dreamweaver. I also include more advanced HTML features in that lesson because some alpha geeks prefer to work in the code and Dreamweaver has great code-editing tools.

Do you suggest using a training book as well, or is video training enough?
Since I'm the author of many books about Dreamweaver, as well as the host of the Total Training video, you might expect me to recommend a book as well as a video, and I certainly wouldn't want to disappoint you.

If you want the best of both worlds, think of it this way — the video is like getting a teacher in a box, your own private classroom. My Dreamweaver 8 For Dummies book is like having a good reference. Watch the video to learn Dreamweaver, and then use the book to look things up when you need a reminder or want to have instructions in front of you while you work.

What are your favorite new features in DW8?
This may seem trivial, but I really like the new copy and paste features. Web designers often have to insert formatted content from programs like Word or Excel, and Dreamweaver 8 now provides four different paste options, which enable you to choose whether to keep some or all the original formatting. It's a handy improvement.

Most designers I've been talking with seem excited about the enhancements to Dreamweaver's CSS features. Macromedia has improved these features, but what's really making them popular is that CSS is finally being supported better by Web browsers. That's not just a reflection of the evolution of Dreamweaver, it's a reflection of the fact that HTML itself has matured in the last couple of years, and it's taken a while for browsers like Internet Explorer, Firefox and Netscape to catch up. Now that these browsers are more consistent, it's become more feasible to use these features, especially if you know your audience is using the latest browser versions.

These days it seems all the cool sites are being designed with CSS — thus these Dreamweaver features are more important and the improvements Macromedia has made are even more valuable. (They're not perfect yet, and the browser support still leaves much to be desired, but I'm sure we'll continue to see improvements in the future.)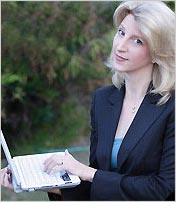 Please tell us about any books you have planned for the near future.
You know I love this question. My Dreamweaver 8 For Dummies book just hit stores in late October and I have a new book series coming out next year, starting with Digital Family Album Basics in January and followed by Digital Family Album Holidays in the fall. I've been having a lot of fun helping families create Web sites — they're so inspiring and people say the darndest things about their kin folk.

If you're a professional Web designer and you're tired of your friends and family asking you to help with their personal Web sites, give them a copy of Digital Family Album Basics, or my Creating Family Web Sites For Dummies book, which was published earlier this year.

If that last paragraph is too much of a shameless plug for my books, feel free to cut it, but you can't blame a Web Goddess for trying. ;-)

No, your books are great, so we'll keep that in! Thanks for the interview Janine.

You can see some free video clips on our Total Training For Dreamweaver Page. Also see Janine's site, www.JCWarner.com. which includes a Dreamweaver Tips page.

Exclusive 20% Discount On Total Training Products & Bundles
You could save hundreds of dollars. Use this special link to see the full offer.



Dreamweaver CS5 - Best Deals From Adobe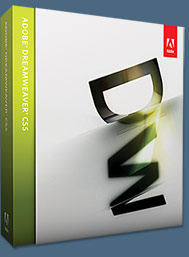 Adobe Dreamweaver CS5 software enables you to develop with PHP-based content management systems such as WordPress, Joomla!, or Drupal; design with powerful CSS inspection tools; and test your web pages across browsers with Adobe BrowserLab, a new Adobe CS Live online service. Dreamweaver CS5 makes it easy to design, develop, and maintain standards-based websites and applications. Learn more about Dreamweaver CS5.

Also consider getting Dreamweaver CS5 as part of Adobe Creative Suite 5 Web Premium software — the comprehensive toolkit for creating a full range of digital experiences — now with Adobe Flash Catalyst CS5 and Flash Builder 4. Upgraders, here's your chance to ramp up to the integrated power of Creative Suite 5 from a previous version of Dreamweaver at a huge savings.

Find CS5 upgrade options and Creative Suite 5 deals at the Adobe Store. See CS5 pricing in UK currency at the Adobe UK Store. Visit the Adobe Special Offers page to find the latest deals. Save 80% on Adobe Student Editions. Try before you buy — download a free Dreamweaver CS5 trial.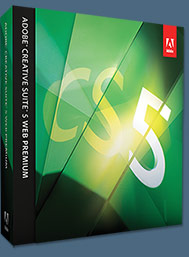 Adobe Creative Suite 5 Web Premium
Adobe Creative Suite 5 Web Premium allows you to design and develop content for delivery virtually anywhere with integrated tools in the Adobe Flash Platform — Flash Catalyst CS5, Flash Professional CS5, and Flash Builder 4. Leverage dynamic application support and CSS enhancements in Adobe Dreamweaver CS5. Extend Dreamweaver capabilities through integration with Adobe BrowserLab — one of the new Adobe CS Live online services — a fast and accurate solution for cross-browser compatibility testing.

Adobe Creative Suite 5 Web Premium combines Dreamweaver CS5, Flash Catalyst CS5, Flash Professional CS5, Flash Builder 4, Photoshop CS5 Extended, Illustrator CS5, Acrobat 9 Pro, Fireworks CS5, Contribute CS5, Bridge CS5, and Device Central CS5. Download a free CS5 Design Premium 30 day trial.

Adobe Dreamweaver CS5 Tutorials & Resources
See our Dreamweaver CS5 Resource Center for free Dreamweaver CS5 Tutorials & Videos, and the free Dreamweaver CS5 30-day trial download.



Exclusive 15% Discount On All Topaz Plugins - Use Coupon Code PHOTOSHOPSUPPORT - Includes Bundles And Upgrades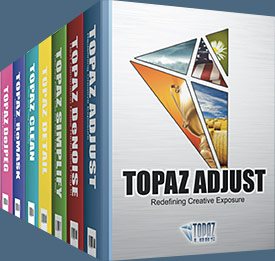 Enter our exclusive discount coupon code PHOTOSHOPSUPPORT during the checkout process at Topaz Labs for an instant 15% discount on any Topaz product, including bundles and upgrades.

Topaz Labs Photoshop plug-ins are specifically designed to expand a photographer's creative toolbox by harnessing powerful image technology developments. Photographers everywhere are now taking advantage of the creative exposure effects, artistic simplification, unique edge manipulation, and top-of-the-line noise reduction offered in Topaz products. The Topaz Photoshop Plugins Bundle is a super powerful Photoshop plugins package that includes the following Topaz products:

Topaz Adjust
Deliver stunning and dynamic images with this uniquely powerful plug-in that features HDR-like abilities and enhances exposure, color and detail.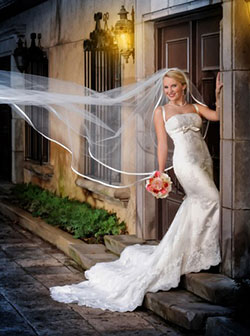 Topaz Detail
A three-level detail adjustment plug-in that specializes in micro-contrast enhancements and sharpening with no artifacts.
Topaz ReMask
The fastest and most effective masking and extraction program with one-click mask refining.
Topaz DeNoise
Highest-quality noise reduction plug-in that removes the most noise and color noise while preserving the most image detail.
Topaz Simplify
Provides creative simplification, art effects, and line accentuation for easy one-of-a-kind art.
Topaz Clean
Take control of the detail depth of your images with extensive smoothing, texture control and edge enhancement tools.
Topaz DeJPEG
Drastically improves the quality of web images and other compressed photos.

Learn more about the Topaz Photoshop Plugins Bundle. Download a free trial version.



Exclusive onOne Software 15% Instant Discount Coupon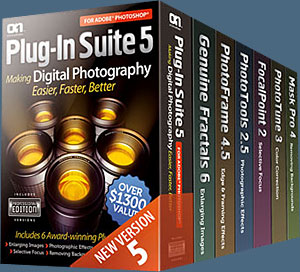 Enter our exclusive discount coupon code - PSSPPT06 - during the checkout process at onOne Software for an instant 15% discount on any onOne product. This includes Genuine Fractals and their amazing Photoshop Plug-In Suite.

OnOne's new Plug-In Suite solves six of the most frequent problems photographers will encounter in Photoshop. This suite has been granted American Photos Magazine's Editor's Choice award for Top Image Editing Software. The Plugin Suite includes:

Genuine Fractals Pro is renowned by both photographers and printers for its finesse at increasing images to more than ten times their original size while maintaining the sharpness and detail you started with. Think of this as the industry standard for image resizing.

Mask Pro is used to remove the tough stuff — such as hair, smoke and glass — while retaining the fine detail. You choose what colors to keep, then paint away what you don't need.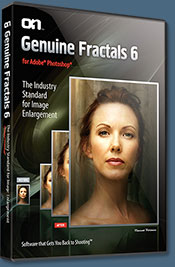 PhotoTools Pro packs hundreds of high-calibre photographic effects into one user-friendly plug-in. It's fast and easy to use. Gives your photos that pro quality look.

PhotoFrame Pro lets you enhance your pictures with hundreds of such design effects, or simply drop your image into a pre-fab layout in Photoshop, Lightroom or Aperture.

FocalPoint helps to control focus and minimize visual noise. Draw the eye to specific points in your images by using selective focus, depth-of-field and vignette effects.

PhotoTune lets you can compare images side-by-side and easily color correct and enhance them. PhotoTune optimizes the dynamic range, color and sharpness of your image without the need to know all the complicated controls in Photoshop like levels and curves.

Simply enter our exclusive discount coupon code - PSSPPT06 - during the checkout process at onOne Software for an instant 15% discount on any onOne product.



Nik Software 15% Instant Discount - Exclusive 15% Coupon

Enter our exclusive discount coupon code - NIKPSS - during the checkout process at Nik Software for an instant 15% discount on any Nik Software product. This exclusive discount coupon code can be applied to all the latest Nik Software Photoshop plugins, including Silver Efex Pro, Color Efex Pro, Viveza, Sharpener Pro, and Dfine.

Color Efex Pro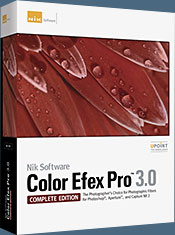 52 photographic filters with over 250 effects for professional quality images. Completely Original. Completely Indispensable.

Nik Software Color Efex Pro filters are the leading photographic filters for digital photography. The award-winning Color Efex Pro filters are widely used by many of today's professional photographers around the world to save time and get professional level results. Whether you choose the Complete Edition, Select Edition, or Standard Edition, you'll get traditional and stylizing filters that offer virtually endless possibilities to enhance and transform images quickly and easily.

Patented U Point technology provides the ultimate control to selectively apply enhancements without the need for any complicated masks, layers or selections. Control color, light and tonality in your images and create unique enhancements with professional results. With 52 filters and over 250 effects found in Color Efex Pro, you can perform high quality retouching, color correction, and endless creative enhancements to your photographs. Download a free Trial version.

Viveza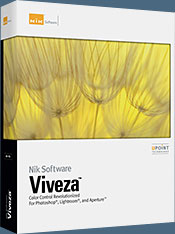 The most powerful tool to selectively control color and light in photographic images without the need for complicated selections or layer masks.

Two of the most important factors in creating great photography are color and light. Mastering the art of selectively correcting or enhancing each of these is now possible for every photographer without the need for complicated masks or selections, or expert-level knowledge of Photoshop. Integrating award-winning U Point technology, Viveza is the most powerful and precise tool available to control light and color in photographic images.

U Point powered Color Control Points, placed directly on colors or objects in an image (such as sky, skin, grass, etc.), reveal easy-to-use controls that photographers can use to quickly adjust brightness, contrast or color in a fraction of the time needed by other tools. With Viveza you'll spend more time shooting photographs and save hours of image editing. Download a free Trial version.

Silver Efex Pro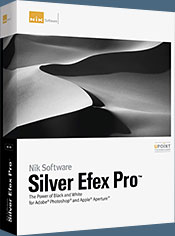 Complete power and control to create professional quality black and white images in one convenient tool.

Silver Efex Pro from Nik Software is the most powerful tool for creating professional quality black and white images from your photographs. For the first time, all the advanced power and control required for professional results have been brought together in one convenient tool.

Featuring Nik Software's patented U Point technology to selectively control the tonality and contrast of the image, Silver Efex Pro includes advanced imaging algorithms to protect against unwanted artifacts, a comprehensive collection of emulated black and white film types, a variable toning selector for adding traditional toning techniques, over 20 one-click preset styles, and a state-of-the-art grain reproduction engine that help produce the highest quality black and white images possible from your color images while providing more freedom to experiment. Download a free Trial version to use Silver Efex Pro.

Enter our exclusive discount coupon code - NIKPSS - during the checkout process at Nik Software for an instant 15% discount. This exclusive discount coupon code can be applied to all the latest Nik Software Photoshop plugins, including Silver Efex Pro, Color Efex Pro, Viveza, Sharpener Pro, and Dfine.



Photoshop Masking Plugin Fluid Mask - Exclusive Instant Discount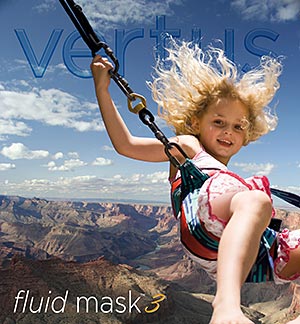 The 4 1/2 out of 5 star review of Fluid Mask at MacWorld begins by saying that this "Photoshop plug-in takes the pain out of extracting backgrounds," and goes on to recommend the latest version, stating that "Fluid Mask is a very effective tool for separating objects from their backgrounds. It offers a variety of useful features for tackling almost any difficult image, from wispy hair to complex foliage. Online video tutorials and live training sessions help ease the learning curve."

Our friends at Vertus, the makers of Fluid Mask Photoshop Plugin, have set up a special exclusive discount for PhotoshopSupport.com. Go to our Fluid Mask page for a special, exclusive discount link.

Fluid Mask is designed for photographers, image editors, graphic designers and all those who take digital image editing seriously. In a streamlined interface and workflow, Fluid Mask instantly shows key edges in the image and provides comprehensive easy to use tools that work with difficult-to-see edges and tricky areas like trees & lattices. Fluid Mask will also preserve all-important edge information for a professional quality cut out. Go to our Fluid Mask page for more info.



lynda.com Online Training Library - View Free Video Clips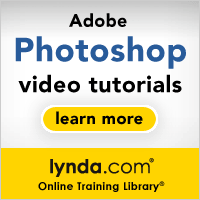 Subscriptions to the lynda.com Online Training Library provide anytime access to tens of thousands of video tutorials covering Photoshop, Illustrator, Dreamweaver, web design, digital imaging, 3D, digital video, animation, and many other topics. View free video clips.

For less than a dollar a day, members have the opportunity to stay current and keep skills sharp, learn innovative and productive techniques, and gain confidence and marketability - all at their own pace. Premium subscriptions include instructors' exercise files so that members can follow along with the exact examples onscreen. Customers learn at their own pace and may stop, rewind, and replay segments as often as necessary. View some free video clips (high resolution).



Did You Know You Could Create An Entire Website In Photoshop?
SiteGrinder Photoshop Plugin - Create Websites Instantly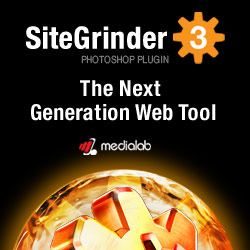 There often seems to be a strict division of labor within the world of web design and development. Creative professionals tend to stick to the Photoshop domain, while those well-versed in scripting are left to the task of implementing their work. Indeed, the two realms are quite different from each other, to which any of us even vaguely familiar with either can easily attest.

Essentially, Photoshop is a no-holds-barred design studio, offering the artist a seemingly endless array of creative options. On the other hand, HTML, CSS, Java and the like follow strict rules of engagement, requiring the developer to take any number of esoteric concerns into consideration in order to ensure that designs are properly displayed on the web.

Turn Photoshop Into A Complete Web Design Tool
SiteGrinder seeks to bridge this gap between design and development. Basically, SiteGrinder turns Photoshop into an easy-to-use and fully functional web design tool. With SiteGrinder, designers will now have the freedom to totally let their creativity loose and then, without skipping a beat, transfer their designs to the web. Bringing esthetic concerns together with more practical considerations, SiteGrinder is an amazingly powerful tool that would make a fantastic addition to any web designer's bag of tricks. Mac OS X and Windows versions of the SiteGrinder unlockable demo are available now via download.






PHOTO CREDIT: Full moon as seen from the International Space Station.