Watch free Photoshop Elements video tutorials from Total Training.


Photoshop Elements 4.0 - Special Offer - only $63.99 at Amazon.com.





Hosted by Brian Maffitt
Published by Total Training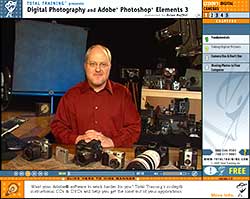 Level: Beginner Through Advanced
Running Time: 2 hours, 40 minutes
Project Files: Included
Extras: Free Bonus Images
review by Eric Martin

Photoshop's little brother is all grown up. Photoshop Elements, now at version 3, has become a very robust photo manipulation package as well as a great tool for organizing your digital photo library.

With software this sophisticated it is extremely helpful to have someone guide you through the infinite options and settings, and this DVD does a great job of doing just that. And this is not just a collection of clever tricks. Photography expert Brian Maffitt walks you through a series of in-depth lessons that teach the fundamentals of digital photography and Photoshop Elements in an easy-to-understand way.

The DVD begins with some tips that cover digital photography basics, things you should know before attempting anything in Elements. This includes a Camera Dos and Don't Dos section, and a helpful overview of how to get images into your computer and organize them. There's also an intro to pixels and image resolutions, two well-known stumbling blocks for beginners.
DVD Chapters
Digital Photography and Adobe Photoshop Elements 3 features the following lessons:
Lesson 1 - Digital Cameras
Lesson 2 - Introducing Adobe Photoshop Elements 3
Lesson 3 - Adjusting Images
Lesson 4 - Using the Tools
Lesson 5 - Printing & Sharing Images
The lessons take you through photography techniques, image correction and enhancements, and show the steps for sharing images as well. You can view some sample videos from this DVD on our Total Training Video Tutorials page.

Bonus Material
The DVD also includes Project files for step-by-step instructions, and over $100 worth of professional imagery from PhotoSpin.



Friendly Interface
Total Training excels in producing high quality DVDs and this one is no exception. Their DVDs also feature a very user-friendly interface, with simple controls that let you navigate through the chapters and the lessons. This makes it easy to re-visit a certain part of the training at a later date.

Summary
Digital Photography & Adobe Photoshop Elements 3 succeeds in teaching you everything you need to know to get up and running quickly with digital photography. Host Brian Maffitt explains things in detail but without ever overwhelming you, and provides a thorough understanding of this powerful program. You really couldn't ask for anything more.

Pricing and Availability
Digital Photography and Adobe Photoshop Elements 3 is available from Total Training for $49.99 USD.

About Brian Maffitt
Brian Maffitt, Total Training's Chief Creative Officer, is also among the world's foremost experts in the field of Motion Graphics, and in particular Adobe After Effects. He is an award-winning animator, interactive designer, and software designer. Brian designed the amazing Evolution plug-ins that became a permanent part of After Effects beginning with version 5.

About Total Training
Total Training, Inc. is a pioneer in fun and innovative video-based training for leading creative design, digital video, and office productivity software programs. Among its other assets, Total Training enjoys a strategic partnership with Adobe including the distribution of its products inside many of Adobe's software packages giving the company notable brand recognition from Adobe's web, print, and video product users. Find out more about Total Training and its broad line of software training video products by visiting their website.








PHOTO CREDIT: Product shot (© Adobe) plus blur on color pools.
© 2004 Eric Martin of Futura Studios