See PHOTORECOVERY® 2010 below for more options in photo recovery software.



PhotoRescue Updated - PhotoRescue 3.2 Photo Recovery Software - Free Download For Mac And PC



PhotoRescue has been updated to version 3.2 and is available as a free download. There have been a lot of changes in this version, with a workflow that is more suitable for the understanding of the average customer. There is also additional RAW file support. Improved movie recovery (incremental, it is hard to get a full range of movies samples from different cameras given their size). Also the ability to extract large usable jpeg thumbnails from RAW files that are damaged beyond recovery. You can download a free demo of the latest version and discover what PhotoRescue can recover for you. If you are happy with the result previews, purchase PhotoRescue from within the demo and the full version will start to work on your lost photos and media cards.



Download Free PhotoRescue 3.2 Demo for MAC OSX


Download Free PhotoRescue 3.2 Demo for PC

PhotoRescue 3.0 is an advanced data-recovery program for digital photography media. Whether you've erased your pictures, formatted your card by mistake, or you've experienced a serious crash, PhotoRescue can help. Here's what's new in version 3.0:
Works with all the types of media used in digital camera (SD Cards, CF Cards, Memory Sticks, etc...
Native Intel Support on Mac OS X: several times faster than version 2.x in native mode.
Up-to-Date RAW file recovery support: supports latest cameras such as the Canon 400D and many more...
Improved Movie recovery: we keep increasing the maximum movie recovery size.
One year of free updates: keep abreast of technology changes, new file formats and technologies.
Unlimited recoveries: use our program as many times as you need to use it.
No media size limits. No recovery limits. Non expiring license: the program is yours to keep and use.
No copy protection: no unfriendly copy protection scheme or intrusive activation mechanism.
Free demo (see below) with guaranteed previews: unlike some of our competitors who use the small embedded thumbnail as a preview of the recovery, we generate our preview on the fly, from actual card data.
You can download a free demo of the latest version and discover what PhotoRescue can recover for you. If you are happy with the result previews, purchase PhotoRescue from within the demo and the full version will start to work on your lost photos and media cards.


Download Free PhotoRescue 3.2 Demo for MAC OSX (4.6 MB)


Download Free PhotoRescue 3.2 Demo for PC (2.4 MB)

There have been some big league testimonials over the past few weeks. Here's one from Derek Story from his The Digital Story blog: "My advice is this: even if you're not ready to pay for PhotoRescue now, download the demo today and have it on your hard drive. That way, if you need it, and don't have Internet handy, you can backup the contents of your memory card immediately, then restore the pictures once you have a chance to go online and pay the $29 registration.

"PhotoRescue works for both Mac and Windows. The Mac version is Universal Binary, and is quite speedy on an Intel Mac. In just minutes, I successfully recovered nearly 2GBs of photos from a formatted SD card that was full of images from my Canon SD700. There are also other recovery applications available that you might want to look in to. The bottom line, however, is to be prepared for an accidental erasure, so you don't lose valuable pictures."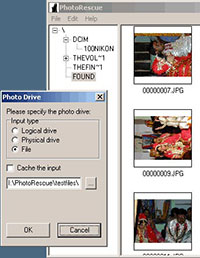 And here's one from The Luminous Landscape, in Michael Reichmann's story of his Antarctica 2007 adventure: "One of the worst things that can happen on a shoot is to find oneself with a corrupted or accidentally erased memory card. I'll tell my own anecdote in a moment, but first I should mention that when you have 50 photographers working together for three weeks, and the giggage mounts up, accidents and misadventures are bound to happen.

"We had at least a half dozen instances of people who had corrupted memory cards, orwho needed to recover files from cards once they had been reformatted. Fortunately a couple of people had a program on their laptops called PhotoRescue, which in every instance was able to save the day.

"Other data recovery programs, such as those now provided free by card makers such as Sandisk and Lexar just didn't cut it. Sometimes a few files could be recovered, but not always, and not all files. With PhotoRescue a complete recovery was possible almost every time. As soon as I got home I downloaded a copy – it's available for both Windows and Mac OSX. Don't leave home without it."
FREE DOWNLOAD - PHOTO RESCUE 3.0
You can download the following demos and discover what PhotoRescue can recover for you. If you are happy with the result previews, purchase from within the demo and the full version will start to work on your lost photos and media cards.


Download Free PhotoRescue 3.2 Demo for MAC OSX


Download Free PhotoRescue 3.2 Demo for PC



PhotoRescue will undelete and recover lost digital photos from a variety of compact flash cards and smart media.
Many companies who produce data recovery software programs tend to be far less empathic with their clients than the people at PhotoRescue – rather, they often seek to capitalize on the sense of urgency and alarm that overwhelms those who have lost important data! Often, you have no idea whether their particular software solution is at all suited to your particular recovery needs. Fearing the worst, you may find yourself forking over for a program that may not even be what you're looking for.
This is where PhotoRescue is truly in a class of its own. Rather than attempting to capitalize off your panic, the people behind PhotoRescue focus on making sure that you know precisely what recovery assistance you will receive before you commit yourself to purchasing their software.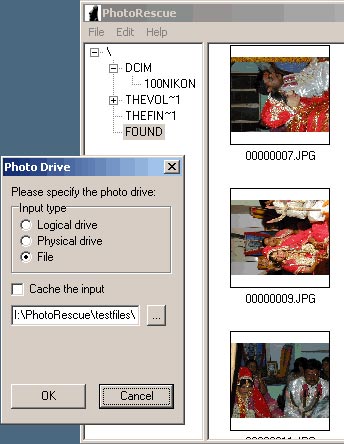 Try Before You Buy
PhotoRescue offers a download of a free demo that allows you to determine whether or not their program will be able to recover what you have lost, before you go ahead and purchase the software. This evaluation version provides an astoundingly accurate preview of the images and photographs that will be recoverable using PhotoRescue.

If you are pleased with the results from the demo, you can purchase the full version and proceed with your recovery operation. PhotoRescue offers a full guarantee of its data recovery capabilities. Once the demo provides you with a preview of your image, that file will be recovered or you will get your money back. This risk-free mentality is refreshingly consumer-friendly, making PhotoRescue stand out from its more shark-like competitors.

Reasonable Price For Photo Recovery
With a purchase you also receive a full year of free downloadable updates and free technical assistance, yet another indication that PhotoRescue seeks to provide you with more than just a one-time charge on your credit card, which in this case is $30 – more than reasonable for what you get in terms of reassurance and reliability.

PhotoRescue will undelete, unerase and recover pictures, images and files lost on corrupted, erased or damaged Compact Flash, SmartMedia, memory sticks, MMD, XD, multimedia or secure digital memory cards when other solutions fail. PhotoRescue runs on both Windows and Mac OS X and comes in a fully controllable Expert version.

Supports All Major File Types & Recovers Invisible Media
PhotoRescue supports the recovery of all file types, but its algorithms are particularly optimized for JPG or JPEG files, TIFF files, GIFs and BMPs. It also offers a constantly updated support for CRW, NEF, ORW, MRW and many types of movie files. In some cases, the software can even rebuild pictures that have suffered minor corruptions. PhotoRescue even deals with cases where the media is not visible as a drive letter any longer, meaning that it can recover the pictures that other recovery software isn't even capable of seeing.

If your card is damaged, corrupted, or has been formatted, PhotoRescue is the best data-recovery solution you can get, and it consistently beats other solutions in independent tests. The praise from industry leaders and users alike is widespread. In recovery tests performed by Computer Bild and Chip Magazine, PhotoRescue outperformed all other programs in its class. It has also received glowing accolades from American Photo and PC Magazine, among others.

PhotoRescue Expert Version
The Expert version is available as a pre-registered download, which arrives via e-mail with a download link to a fully registered copy of PhotoRescue.

PhotoRescue orders are automatically processed as soon as they are received. This means that most orders will be processed and delivered within ten minutes – an excellent turnaround time that will be certain to calm even the most panicked victim of data loss or corruption.

Do Not Panic, Remember To Breathe, & Download The Demo
You can download the following demos and discover what PhotoRescue can recover for you. If you are happy with the result previews, purchase from within the demo and the full version will start to work on your lost photos and media cards.


Download Free PhotoRescue 3.2 Demo for MAC OSX


Download Free PhotoRescue 3.2 Demo for PC

NOTE: What you see is what you get. If the demo version shows your pictures' thumbnails, the full version will recover them. If it does not show the thumbnail, the full version will not be able to recover them.

Purchase PhotoRescue Directly Now
Use the following links to purchase the full version of PhotoRescue recovery software.


PhotoRescue - PC Version


PhotoRescue - MAC Version

PhotoRescue User Guide
Download the user guide to see how this amazing recovery software works. The User Guide is in Adobe Acrobat (PDF) file format. It covers both the Wizard and the Expert versions of PhotoRescue, and was last updated in October, 2005.


PhotoRescue - User Guide

Refund Policy
Until January 15, 2002, PhotoRescue were the only data-recovery software vendor to offer refunds. We believed it was fair to refund customers if the program doesn't work and we still do.

However, we were surprised to see that there were people who would be dishonest enough to take advantage of this. Therefore we have now made our refund policy a bit stricter. Customers should have tried the free demo. It's free and its behavior is identical to the full version. If the demo doesn't work for you, the full version will not work either.

In other words, what you see is what you get. If the demo version shows your picture's thumbnails, the full version will recover them. If it does not show thumbnails, the full version will not recover.

Color may be slightly off, especially if you are shooting in raw mode. In that case, pictures are recoverable with correct colors.

If the demo works for you and the full version doesn't, then and only then we will issue a refund provided you can provide us with an image of the card that created the problem and that we see that the demo and the full version don't behave identically on these cards. Images of cards can be created by both the full and the demo version. Information on how to deliver them to us is available upon simple request.

By minimizing fraud, we can keep the program's cost low, to the benefit of the 99.5% of users who don't cheat. And =by examining potentially troublesome card images, we make the program better.

Here are some of our most hilarious refund requests (these are true stories).
"Your program performed as claimed and recovered all the erased pictures. However, my wife doesn't like them and, as such, they have no value to me. May I have a refund?"

"The demo did show my pictures and I did indeed download the full version, but before I could actually use it, Katie, our dog, had eaten the memory card..."
If you have any questions we did not cover, contact us at support@datarescue.com.



PhotoRescue Digital Photo Recovery - FAQS
Here are some of the most common questions and answers concerning the use of PhotoRescue recovery software for the recovery of lost images and pictures from camera cards and hard drives.

PhotoRescue locks up hard - what do I do next?
PhotoRescue, as an application, does not cause hard lockups by itself. Therefore a lockup that requires a reset is almost always caused by a severe physical card failure from which the reader's driver can't recover. What should you do in those case?
if the lockup happens when PhotoRescue tries to guess the media size, you can avoid that phase by unticking the "Determine the card size box".
if the lockup happens at the end of a recovery, try to specify a card size that is inferior to the total card size by a margin that depends on when you begin to have trouble.
Will PhotoRescue work directly with my camera/printer/device?
It may, but there is no guarantee that it will. Card readers are popping up everywhere, there is no way we can test all devices with PhotoRescue. That is why the recommended configuration is an external dedicated USB or Firewire card reader.

PhotoRescue says Not a FAT Drive. Is this a bug or what?
When cards are damaged or corrupted, they may loose the information that allows the operating system to mount them as logical units (drive letters). In that case, PhotoRescue is usually still able to access the card and recover pictures in Physical Mode. Physical Mode is only available under Windows NT, Windows 2000 and Windows XP.

I sent my card to a data recovery service and they sent back pictures that will not load or display. Will PhotoRescue fix them?
No, unless you have kept the original card/microdrive untouched, PhotoRescue will not be able to rebuild pictures from data that simply is not there. PhotoRescue can often recover data even after ill-informed attempts at data recovery have damaged the situation further, but it needs the full smartmedia, compact flash, memory stick or microdrive to be available.

Will PhotoRescue work with the IBM Microdrive, and if it does, what are the limitations?
PhotoRescue is generally able to unerase, unformat or recover from logical problems the IBM Microdrive. However, the microdrive is a mini hard drive and as such, it can suffer head crashes and other types of mechanical failures: in those cases, data can be unreachable and hardware data recovery specialists should be contacted. Please keep in mind that you may need up to three GB of free disk space when working with a full 1GB microdrive.

How do I contact you?
DataRescue sa/nv
40 Blvd Piercot
4000 Liege
Belgium
support@datarescue.com



Photoshop CS5 & Photoshop CS5 Extended - Best Deals From Adobe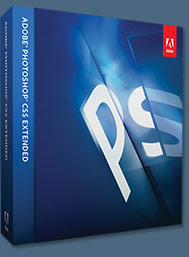 Adobe Photoshop CS5 delivers breakthrough capabilities to help you create images with impact. Refine your images with reengineered photography tools for removing noise, adding grain, and creating high dynamic range (HDR) images. Get precise results when making complex selections. Remove any image element and see the space fill in almost magically. Paint with naturally textured brushstrokes and realistic color blends. Learn more about Photoshop CS5.

Adobe Photoshop CS5 Extended software helps you create the ultimate images for print, the web, and video. Enjoy all the state-of-the-art editing, compositing, and painting capabilities in industry-standard Photoshop CS5, and experience fast performance thanks to cross-platform 64-bit support. Also create 3D extrusions for logos, artwork, and motion graphics; edit 3D objects with advanced tools; and create and enhance motion-based content. Learn more about Photoshop CS5 Extended.

Find CS5 upgrade options and Creative Suite 5 deals at the Adobe Store. See CS5 pricing in UK currency at the Adobe UK Store. Visit the Adobe Special Offers page to find the latest deals. Save 80% on Adobe Student Editions. Try before you buy — download a free Photoshop CS5 trial.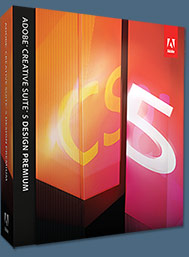 Adobe Creative Suite 5 Design Premium
Adobe Creative Suite 5 Design Premium software gives you fresh new creative tools, along with the ability to deliver ideas faster in print and create interactive content without writing code. Plus Design Premium integrates with Adobe CS Live online services to maximize your design time by streamlining critical nondesign tasks.

Adobe Creative Suite 5 Design Premium combines Adobe InDesign CS5, Photoshop CS5 Extended, Illustrator CS5, Flash CS5 Professional, Dreamweaver CS5, Fireworks CS5, and Acrobat Pro with additional tools and services. Download a free CS5 Design Premium 30 day trial.

Photoshop CS5 Tutorials & CS5 Resources
See our Photoshop CS5 Resource Center for Free Photoshop CS5 Tutorials, and the Free Photoshop CS5 Trial Download. See our Photoshop CS4 Resource Center for Free Photoshop CS4 Tutorials.




The Photoshop Blog offers the latest Photoshop and Digital Photography news and software updates, tips and tutorials, and random thoughts from graphic artist, digital photographer and Photoshop expert Jennifer Apple.




PHOTO CREDIT: Full moon as seen from the International Space Station.