Buy. Download. Create. Get Photoshop Elements now at the Adobe Store.


Get all your Photoshop upgrade options and the best prices at the Adobe Store.




Adobe Photoshop Elements 9 Top Reasons To Buy - Top New Features

Here are the top reasons customers purchase Adobe Photoshop Elements 9.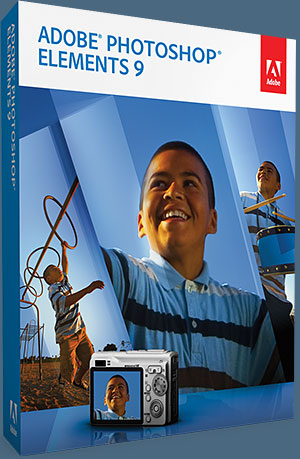 Do it all with one powerful yet easy-to-use product
Use Adobe Photoshop Elements 9 for all your photo needs. Manage, edit, and enhance photos; make photo creations that look just the way you want; and share in print, on the web, and on popular devices.

Experience the ultimate media-management hub
Quickly organize all your media in one convenient place. Find your best photos and clips—or photos that feature specific people—fast, thanks to automated options. Then dive into a full range of creative activities and start enjoying your memories.

Go from flawed to phenomenal in seconds
Get just the photo fixes you're looking for with one-step shortcuts that whiten teeth and make skies a vibrant blue. When you perform one-step photo adjustments—including color, contrast, and lighting—you can quickly choose the best result from a group of adjustment previews. And instantly unclutter a photo and beautifully blend in the background.

Count on step-by-step assistance
Want to easily fix a scratch, create a reflection effect, or design a scrapbook page? Get help with key steps to get the results you want fast.

Easily create the perfect photo
Take advantage of amazing Photomerge technology to easily match the style of one photo to another; create fuller panoramas, perfectly lit shots, and great group shots; and combine elements of different faces for entertaining results.

Show off your creativity with flexible layouts
Make amazing printed photo creations like scrapbook pages, photo books, calendars, and cards. Choose your level of control: Create in minutes using professionally designed templates, or let your creativity run wild and access every photo-editing option from directly within your layout. Get fun, fresh looks with new artwork and templates.

Share experiences in fresh, exciting ways on the web
Show off your photos in one-of-a-kind Online Albums with your choice of animated templates, including all-new options for sharing photos and videos together, with music. Adobe Flash® technology lets viewers interact with your photos for an entertaining experience.

Top new benefits of Adobe Photoshop Elements 9

Instantly unclutter or repair photos
Is your photo cluttered with telephone wires, tourists, or passing cars? Make unwanted elements vanish with one stroke of the enhanced Spot Healing Brush, which beautifully blends even the most complex background. Also instantly fix old or torn photos so you can make new prints.

Easily match a favorite photo style
Want to imitate a favorite photography style, like a dramatic high contrast or a beautiful color tone? Photomerge Style Match analyzes the stylistic qualities of any photo you choose and then automatically applies those qualities to another photo.

Create fuller panoramas
Easily create your best-looking panoramas yet. With its enhanced blending capabilities, Photomerge Panorama fills in jagged edges as it automatically stitches together multiple horizontal or vertical photos.

Create stunning photo effects
Easily create stunning effects that enhance your photos with professional style. New Guided Edits help you create pop art masterpieces, reflection effects, perfect portraits, and more.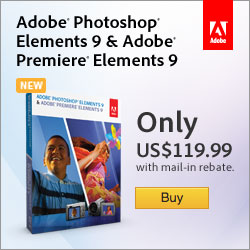 Create richly layered photos
Bring new sophistication to your photos. Reveal one portion of a photo through another photo by using layer masks to control the transparency of specific areas.

Quickly share photos and videos on Facebook
Conveniently share photos and videos on Facebook* directly from the Organizer, which automatically optimizes your media so it looks its best.

Get a complete photo solution for Macs
Use a Mac for your photos? You can now experience the ultimate media-management hub for organizing your photos, and you can quickly find your best photos and video clips—or photos that feature specific people—thanks to automated options.




[reviewed by Eric Martin]
It is remarkable how the overall costs of digital photography have gone down. Just a few years ago a digital camera that could match the quality of an image from a film camera would have cost over $5,000. Now you can buy a decent digital camera for under $300. And the software has become cheaper as well. Photoshop's hefty price has kept it out of reach of the amateur and hobbyist photographer. But now you can buy Adobe's Photoshop Elements 3, which has a feature set that almost equals the power of Photoshop, for less than $80.
Photoshop training courses have also seen a downward trend in pricing. Total Training's latest — Adobe Photoshop Elements 3 Unleashed — offers over 6 hours of lessons, includes project files and bonus stock photos, and costs less than $60. That's a very good deal considering the host is none other than Deke McClelland, who I consider to be one of the top Photoshop teachers in the world.


Read full review of Adobe Photoshop Elements 3 Unleashed.





[reviewed by Eric Martin]
Photoshop's little brother is all grown up. Photoshop Elements, now at version 3, has become a very robust photo manipulation package as well as a great tool for organizing your digital photo library.
With software this sophisticated it is extremely helpful to have someone guide you through the infinite options and settings, and this DVD does a great job of doing just that. And this is not just a collection of clever tricks. Photography expert Brian Maffitt walks you through a series of in-depth lessons that teach the fundamentals of digital photography and Photoshop Elements in an easy-to-understand way.


Read full review of Total Training's new Photoshop Elements 3 training DVD.





Photoshop Elements 3 For Beginners - DVD
[reviewed by Eric Martin]
Adobe is famous for giving their software lots of power under the hood, and with Photoshop Elements 3 they continue in this tradition. With version 3 Photoshop Elements now has many of the features that are found in the full version of Photoshop.
The problem with a program that's this powerful is that it comes with a much steeper learning curve. Luckily help is on the way from Photoshop Elements 3 For Beginners.


Read full review of Photoshop Elements 3 training DVD featuring Scott Kelby.





[reviewed by Bob LeVitus]
Bob "Dr. Mac" LeVitus says "Photoshop Elements offers many of the same features as its more expensive counterpart, but is easier to use and sells for $500 less. If you're in the market for a graphics program for less than $100, nothing else comes close."


Read the full review.





Adobe Photoshop Elements 5.0 Maximum Performance

There's an interesting Photoshop Elements 5 book from Mark Galer that has come to my attention — Adobe Photoshop Elements 5.0 Maximum Performance. Part of the appeal is that the book ships with 5 hours of DVD tutorials and a whole bunch of free stock photos. That's a nice touch. And the book is getting a good amount of positive reviews, including this one: 'Using crafty work-arounds to achieve remarkable results, Mark Galer pushes Elements' capabilities to new levels.' — Christy Brandt, Director of Engineering, Photoshop Elements, Adobe Systems, Inc. Here's some press on Mark's book:

Adobe Photoshop Elements 5.0 Maximum Performance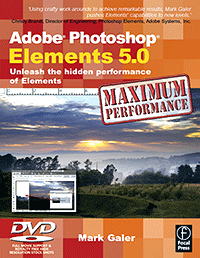 Get the most from your digital camera to produce high-end results that casual users only dreamed of. Your photos will look like a pro shot them as imaging guru Mark Galer shows you how to use critical but little-known techniques for professional quality editing.
Create awesome effects with no commercial lighting or studio equipment
Extend the dynamic range of your digital camera by merging multiple exposures
Give your shots the WOW! factor with advanced options for more power
Everything is at your fingertips with the DVD:
5 hours of video tutorials, cataloged into digestible snippets
Over 200 royalty-free, high-resolution images
Raw and 16-bit/Channel files
wMulti-layered project files, loadable presets and keyboard shortcut reference guide
Mark Galer is a senior lecturer in digital imaging at RMIT, Australia, is a Photoshop Elements Ambassador and is the author of 7 best-selling digital imaging books. 'Well written, well illustrated, with a good knack for explaining complex issues.' - Steve Caplin, digital illustrator and author of How to Cheat in Photoshop.



Buy Adobe Photoshop Elements 5.0 Maximum Performance at Amazon.com (34% off).


visit Mark Galer's site.


Photoshop Elements 5.0 - Special Offer - only $65.99 at Amazon.com.







PHOTO CREDIT: Product shot (© Adobe) plus blur on color pools.
© 2004 Eric Martin of Futura Studios