Watch free Photoshop Elements video tutorials from Total Training.


Photoshop Elements 4.0 - Special Offer - only $63.99 at Amazon.com.





Hosted by Deke McClelland
Published by Total Training
Level: Beginner Through Advanced
Running Time: 6 Hours 13 minutes, 1 DVD (ROM)
Project Files: Included
Extras: Free Bonus Images
review by Eric Martin

The Digital Age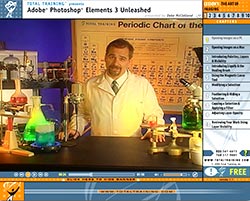 It is remarkable how the overall costs of digital photography have gone down. Just a few years ago a digital camera that could match the quality of an image from a film camera would have cost over $5,000. Now you can buy a decent digital camera for under $300. And the software has become cheaper as well. Photoshop's hefty price has kept it out of reach of the amateur and hobbyist photographer. But now you can buy Adobe's Photoshop Elements 3, which has a feature set that almost equals the power of Photoshop, for less than $80.

Photoshop training courses have also seen a downward trend in pricing. Total Training's latest — Adobe Photoshop Elements 3 Unleashed — offers over 6 hours of lessons, includes project files and bonus stock photos, and costs less than $60. That's a very good deal considering the host is none other than Deke McClelland, who I consider to be one of the top Photoshop teachers in the world.

Lots And Lots Of Lessons
It's important not be intimidated by the 6 hour length of this training. In my experience, no matter how hard you try to explain a concept or technique to someone new to Photoshop, it's difficult for them to grasp until they actually put the information to use in a real world project. Therefore, if you find yourself stumped about a Photoshop technique sometime in the future, you can quickly slide in the DVD, find the appropriate chapter, and follow the lesson. When you apply a lesson to a work in progress, you will "get it" and you will also remember it well.

So how thorough is the training? Very thorough. I've listed the full index of lessons below to show you just how much is covered on this DVD.

Chapter 4 — Using Adjustment Layers
My favorite lessons were part of Chapter 4. These lessons focus on teaching you the value of non-destructive layers. Deke walks you through some projects and by the end you'll see why Adjustment Layers are one of Elements' most powerful tools. The material in this section is presented in a way that makes it easy and simple to grasp.

Bonus Material
The DVD also includes project files for step-by-step instructions, and over $100 worth of professional imagery from PhotoSpin.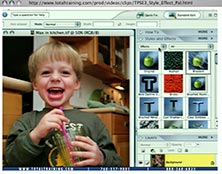 Friendly Interface
I've mentioned in other reviews that Total Training excels in producing high quality DVDs — and they've done it again here. Their DVDs feature a user-friendly interface with simple controls that let you navigate through the chapters and the lessons with ease.

Summary
Adobe Photoshop Elements 3 Unleashed teaches you what you need to know to begin editing and retouching your digital photos with professional results. The lessons include a mix of PC and MAC interfaces so that both platforms are well covered, and the accompanying project files are also a nice touch. Video-based training can be hard to follow at times, but launching the project files and working along with the teacher makes it is easier to understand the steps in the lessons.

Pricing and Availability
Adobe Photoshop Elements 3 Unleashed is available from Total Training for $59.99 USD.

Sample Videos
You can view some sample videos from this DVD on our Total Training Video Tutorials page.

About Deke McClelland
Deke McClelland is a number one-selling author of books about computer graphics, digital imaging, and electronic design. Having written more than 50 titles in the past decade and with over 2.5 million copies in print, his knowledge of programs such as Adobe Photoshop and Illustrator is unsurpassed.

About Total Training
Total Training, Inc. is a pioneer in fun and innovative video-based training for leading creative design, digital video, and office productivity software programs. Among its other assets, Total Training enjoys a strategic partnership with Adobe including the distribution of its products inside many of Adobe's software packages giving the company notable brand recognition from Adobe's web, print, and video product users. Find out more about Total Training and its broad line of software training video products by visiting their website.




ADOBE PHOTOSHOP ELEMENTS 3 UNLEASHED
Hosted by Deke McClelland
(full index)


Total Training Presents: Adobe Photoshop Elements 3 Unleashed
Retail Value $59.99
Format: DVD (ROM)
Platform: Windows & MAC OS
Experience Level: Advanced
Running Time: 6 Hours 13 minutes, 1 DVD (ROM)
Project Files: Included - Plus Free Bonus Images
For more info visit the
Total Training
website.