Buy. Download. Create. Get Flash Pro CS4 now at the Adobe Store.


Get Flash Pro, Dreamweaver, and Photoshop Extended with CS4 Web Premium.


Get the Flash 30-day free trial on our Flash Product Review Page.




Adobe Flash Pro CS5 Resource Center - Flash Pro CS5 Free Trial Download, Flash Pro CS5 Free Tutorials, Flash Pro CS5 News

Here is the latest news for Flash Pro CS5. Also see our free Flash Pro CS5 tutorials, Flash Pro CS5 video tutorials, Flash Pro CS5 tips and tricks, and the free Flash Pro CS5 30 day trial download.

Adobe CS5 Upgrade Options - Upgrade From Any Suite To Any Suite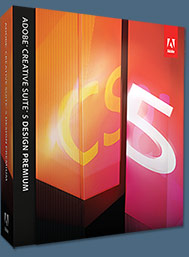 You can upgrade from any Suite to any Suite, as there are no more restrictions. Customers can upgrade to CS5 suites from up to 3 versions back. For example, upgrade from CS4 Web Premium to CS5 Production Premium or from CS4 Production Premium to CS5 Design Standard. Or, upgrade from Design Standard CS3 to Design Premium CS5. Customers can even step down; go from Photoshop Extended to Photoshop or from a Master Collection to another Suite.

There is tiered pricing for Suite to Suite upgrades. Upgrading from a CS4 suite to a CS5 suite costs less than upgrading from eligible older versions, such as CS2, CS3, Studio 8, & Adobe Production Studio. Please note that CS1 and Studio MX 2004 customers are no longer eligible for upgrade pricing. For full upgrade pricing on individual CS5 products visit the Adobe Store.



Flash Pro CS5 New Features - Flash CS5 New Feature List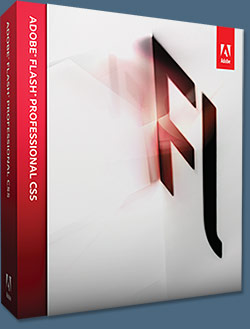 Flash Professional CS5 software is the industry-leading environment for interactive authoring and delivery of immersive experiences that present consistently across personal computers, mobile devices, and screens of virtually any size and resolution.

Design expressive content, write code precisely and efficiently, and deliver superior-quality video to audiences practically everywhere. A powerful new text engine, expanded support for mobile and consumer devices, and enhanced coding tools are among the new features in Adobe Flash Professional CS5.

New text engine
Flash Professional CS5 adds support for the new Text Layout Framework built into Flash Player 10, enabling you to use print-quality typographic functionality and take the experiences you create to new heights. Support for the Text Layout Framework provides rich, multilingual typographic control that previously was not available in Flash Professional, as well as a comprehensive set of APIs to manipulate text content, layout, and markup. The new text engine in Flash Professional CS5 also maintains layout and text formatting with greater fidelity when importing content from Adobe InDesign software and other Adobe products.

Print-quality typographic control
Designers have come to expect rich typographic control in applications like InDesign and Illustrator. However, it's been extremely difficult or even impossible to set professional-level typography on the web—until now. With the Text Layout Framework support in Flash Professional CS5, designers can take advantage of rich typographical controls, including:

• Advanced text styling such as kerning, ligatures, tracking, leading, superscript, subscript, discretion- ary hyphens, margins, hypertext, baseline shift, typographic case, digit case (oldstyle/lining figures), and digit width (proportional/tabular figures).

• Advanced text-layout controls including threaded text blocks; the selection, editing and flowing of text across multiple columns; linked images; text wrap; and inline images (supporting PNG, JPG, SWF, or any Flash Player DisplayObject). Tab stops and CSS anti-aliasing are also supported.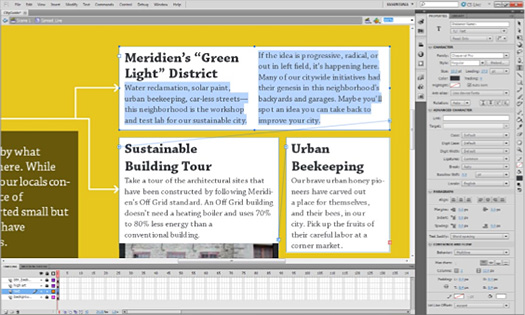 With the new text engine in Flash Professional CS5, you can take advantage of rich typographical controls, including threaded and multi-column text.

Global language support
The Text Layout Framework brings advanced multilingual typographic and layout features to Flash Professional CS5. This support includes the ability to display and edit not only right-to-left scripts, but also top-to-bottom scripts, and those that often use a mixture of left-to-right and right-to-left scripts such as Arabic and Hebrew.

The new text engine offers additional features for East Asian typography, including an East Asian justifier, vertical text support, and Tate-Chu-Yoko, or blocks of horizontal text embedded into vertical runs of text.

Advanced inline text editing
Working with text inside of Flash Professional is now a far more efficient and productive experience. In addition to cut, copy, paste, find, replace, and spell-check functionality and standard keyboard and mouse gestures for editing (Ctrl/Command, Home/ End, double-click), a new Selection mode allows text to be treated as read-only, read-select, or read-write.

Advanced rendering support
While offering advanced typographic control to designers is important, you want to know that what you see on your screen matches your viewers' experience as well. The Text Layout Framework builds on the history of consistent high-quality playback and display across multiple devices in Flash Player by adding support for transparency and for device and embedded fonts (including anti-aliasing of embedded fonts). A new embedded font format (DefineFont4) provides improved typography features, international support, and reduced file sizes.




The replacement of the file-format structure from FLA to XFL is transparent, allowing you to work with project files in the same way, only with more control.

Ability to distribute content virtually anywhere
Deliver consistently across screens of virtually any size and use Adobe Device Central for enhanced device testing. The Distribution service available separately through Adobe Flash Platform Services offers free and paid methods for distributing applications to social networks, mobile devices, and desktops. It also enables developers and businesses to track the distribution of and user engagement with their applications, and enables monetization of applications through ad hosting.

XML-based FLA source files
Flash Professional CS5 uses an XML-based implementation of the FLA file format called XFL, offering improved cross-product integration and workflow productivity. This compact and efficient file format both accurately maintains data in a Flash document and makes the individual elements easier to manage and use.

For example, an image that is currently used in a Flash project could be checked out of a source control system, updated, and checked back in. The next time you open the FLA project file, you would instantly see the updated image without having to manually import it into the project. With better support for multiuser environments and cross-product compatibility, the XML-based format in Flash Professional offers the following benefits:

• The uncompressed format allows several users on a team to work on the same project simultaneously—no more having to split the project into multiple FLA files.
• Integration with source control systems is now possible because each team member can work on separate assets in the XFL package, eliminating the need to resolve differences.
• Mobile developers can work on the same files as other developers. (In the past, mobile content could not load other SWF files.)

Using XML-based FLA source files, Flash Professional CS5 provides a richer environment in which to exchange data with other key Adobe Creative Suite tools, including After Effects, InDesign, Illustrator, Adobe Encore®, and Flash Catalyst.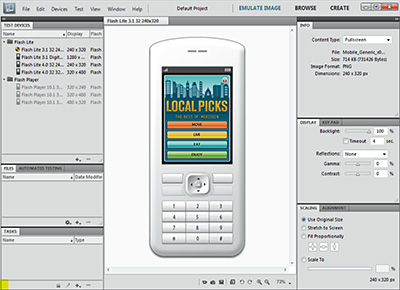 When designing mobile content in Flash Professional CS5, you can use the Test Movie command to launch Adobe Device Central CS5 and test things like network performance and accelerometer controls.

Code Snippets panel
Flash Professional CS5 provides a new way to quickly include code for things like timeline navigation, actions, animation, audio and video, and event handlers with the Code Snippets panel. By injecting prebuilt code into projects, you can work faster, freeing up more time for creativity. For example, the sample code snippets allow you to create interactive buttons without extensive code experience. Code snippets also contain helpful comments and clear instructions right in the code and can greatly reduce the ActionScript 3.0 learning curve by helping new users learn how the ActionScript language works. In addition, because the panel is extensible, you can create and share snippets with others, helping to reduce overall production time.

Enhanced ActionScript editor
Increase development speed with an improved ActionScript editor, including custom class code hinting and code completion, and reference your own code or external code libraries more efficiently. Novice developers can start projects and have code hinting assist them as they try to grasp the fundamentals of the ActionScript language. Flash Professional CS5 can automatically write the import statement for libraries, and more experienced and advanced developers can more quickly reference their own code or any external code libraries they are using.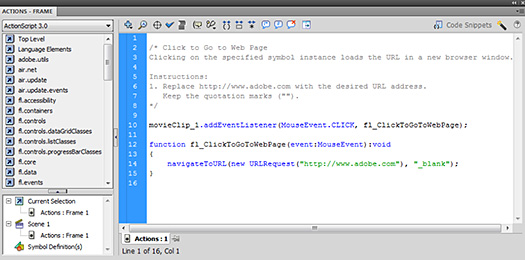 Code snippets help you learn how to code on your own. When you apply a snippet, clear instructions help you customize the code to your specific needs.

Improved Creative Suite integration
Flash Professional is an integral part of all Creative Suite 5 Premium editions. Flash Professional CS5 adds more ways to work directly with other Creative Suite 5 components for a more efficient workflow, including:
• Edit bitmaps in Photoshop using the new Edit With Photoshop CS5 command
• Export complex graphics via the FXG format, which you can open in Illustrator
• Place finished SWF files into Flash Catalyst projects
• Use Flash Builder as your ActionScript code-authoring environment
• Open content from InDesign with greater text fidelity
• Import FXG files from Fireworks
• Open content from After Effects and retain editing flexibility

Spring for Bones
With Flash Professional CS5, Adobe integrates the power of a dynamic physics engine into the Inverse Kinematics (IK) system. This engine allows new users to create lifelike animation with ease, and gives expert users powerful functionality that is supported for both runtime and authortime. Spring gives IK animation movement that is 100% configurable, so you can now get realistic multi-object interactions that don't look robotic and rigid. Spring, a property of an IK Bone element, consists of two attributes: Strength and Damping.
• Strength sets the amount of spring. When the value is greater than zero, the bone reacts with a physical movement that is proportional to the Strength value and the overall movement.
• Damping adds resistance to the Strength value. This affects the rate of decay of the spring, which in turn determines the duration between the initial movement and the time when the IK Bone returns to its rest position.

Video improvements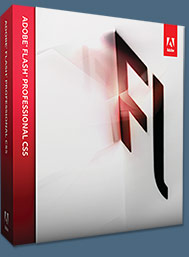 With integrated support for content created with Adobe Premiere Pro or Adobe After Effects software, it's easy to work with video content directly in Flash Professional CS5. Streamline embedding and encoding processes with on-stage video scrubbing and the ability to define cue points directly in the Properties panel. Now, when you have an FLV playback component on the stage, you can see the video on the stage, whereas previously you had to test the movie. Flash Professional CS5 also includes Adobe Media Encoder, enabling you to convert just about any file format to FLV or F4V.

New Deco drawing tools
Flash Professional CS5 extends the functionality of the dynamic Deco brush tools, enabling you to easily draw shapes and add advanced animation effects. These new brushes include:
• Particle System. Quickly create movement for particle phenomena like clouds or rain.
• 3D, Decorated, and new Grid brushes. Draw stylized lines or create patterns with multiple objects at once.
• Tree, Flame, Lightning, and Building brushes. Use specialized tools to add and customize these stylized shapes.



Buy Directly From Adobe's Online Store
Find upgrade options and Creative Suite deals at the Adobe USA Store. Visit the Adobe Special Offers Page to find the latest offers. Get up to 80% off at the Adobe Education Store.

Adobe Flash Pro CS5 Tutorials & Resources
See our Flash Pro CS5 Resource Center for free Flash Pro CS5 Tutorials & Videos, and the free Flash Pro CS5 30-day trial download.



Adobe Flash Player 10.1 Release Candidate 2 Now Available For PCs And Netbooks



Adobe Flash Player 10.1 will deliver a consistent, cross-platform runtime across desktop and mobile devices. Flash Player 10.1 release candidate 2 was released on April 19, 2010 and is available for download.

Adobe Flash Player 10.1 is the first runtime release of the Open Screen Project that enables uncompromised Web browsing of expressive applications, content and video across devices. With support for a broad range of mobile devices, including smartphones, netbooks, smartbooks and other Internet-connected devices, Adobe Flash Player 10.1 allows your content to reach your customers wherever they are.

A prerelease version of Adobe Flash Player 10.1 is now available for Windows, Macintosh, Linux, and Solaris operating systems. This public prerelease is an opportunity for developers to test and provide early feedback to Adobe on new features, enhancements, and compatibility with previously authored content. Consumers can try the prerelease of Flash Player 10.1 to preview hardware acceleration of video on supported Windows PCs and x86-based netbooks.



Exclusive 15% Discount On All Topaz Plugins - Use Coupon Code PHOTOSHOPSUPPORT - Includes Bundles And Upgrades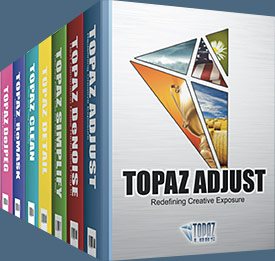 Enter our exclusive discount coupon code PHOTOSHOPSUPPORT during the checkout process at Topaz Labs for an instant 15% discount on any Topaz product, including bundles and upgrades.

Topaz Labs Photoshop plug-ins are specifically designed to expand a photographer's creative toolbox by harnessing powerful image technology developments. Photographers everywhere are now taking advantage of the creative exposure effects, artistic simplification, unique edge manipulation, and top-of-the-line noise reduction offered in Topaz products. The Topaz Photoshop Plugins Bundle is a super powerful Photoshop plugins package that includes the following Topaz products:

Topaz Adjust
Deliver stunning and dynamic images with this uniquely powerful plug-in that features HDR-like abilities and enhances exposure, color and detail.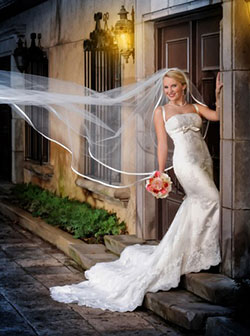 Topaz Detail
A three-level detail adjustment plug-in that specializes in micro-contrast enhancements and sharpening with no artifacts.
Topaz ReMask
The fastest and most effective masking and extraction program with one-click mask refining.
Topaz DeNoise
Highest-quality noise reduction plug-in that removes the most noise and color noise while preserving the most image detail.
Topaz Simplify
Provides creative simplification, art effects, and line accentuation for easy one-of-a-kind art.
Topaz Clean
Take control of the detail depth of your images with extensive smoothing, texture control and edge enhancement tools.
Topaz DeJPEG
Drastically improves the quality of web images and other compressed photos.

Learn more about the Topaz Photoshop Plugins Bundle. Download a free trial version.



Exclusive onOne Software 15% Instant Discount Coupon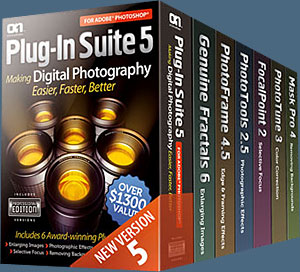 Enter our exclusive discount coupon code - PSSPPT06 - during the checkout process at onOne Software for an instant 15% discount on any onOne product. This includes Genuine Fractals and their amazing Photoshop Plug-In Suite.

OnOne's new Plug-In Suite solves six of the most frequent problems photographers will encounter in Photoshop. This suite has been granted American Photos Magazine's Editor's Choice award for Top Image Editing Software. The Plugin Suite includes:

Genuine Fractals Pro is renowned by both photographers and printers for its finesse at increasing images to more than ten times their original size while maintaining the sharpness and detail you started with. Think of this as the industry standard for image resizing.

Mask Pro is used to remove the tough stuff — such as hair, smoke and glass — while retaining the fine detail. You choose what colors to keep, then paint away what you don't need.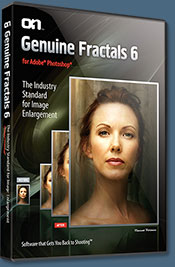 PhotoTools Pro packs hundreds of high-calibre photographic effects into one user-friendly plug-in. It's fast and easy to use. Gives your photos that pro quality look.

PhotoFrame Pro lets you enhance your pictures with hundreds of such design effects, or simply drop your image into a pre-fab layout in Photoshop, Lightroom or Aperture.

FocalPoint helps to control focus and minimize visual noise. Draw the eye to specific points in your images by using selective focus, depth-of-field and vignette effects.

PhotoTune lets you can compare images side-by-side and easily color correct and enhance them. PhotoTune optimizes the dynamic range, color and sharpness of your image without the need to know all the complicated controls in Photoshop like levels and curves.

Simply enter our exclusive discount coupon code - PSSPPT06 - during the checkout process at onOne Software for an instant 15% discount on any onOne product.



Nik Software 15% Instant Discount - Exclusive 15% Coupon

Enter our exclusive discount coupon code - NIKPSS - during the checkout process at Nik Software for an instant 15% discount on any Nik Software product. This exclusive discount coupon code can be applied to all the latest Nik Software Photoshop plugins, including Silver Efex Pro, Color Efex Pro, Viveza, Sharpener Pro, and Dfine.

Color Efex Pro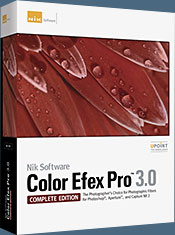 52 photographic filters with over 250 effects for professional quality images. Completely Original. Completely Indispensable.

Nik Software Color Efex Pro filters are the leading photographic filters for digital photography. The award-winning Color Efex Pro filters are widely used by many of today's professional photographers around the world to save time and get professional level results. Whether you choose the Complete Edition, Select Edition, or Standard Edition, you'll get traditional and stylizing filters that offer virtually endless possibilities to enhance and transform images quickly and easily.

Patented U Point technology provides the ultimate control to selectively apply enhancements without the need for any complicated masks, layers or selections. Control color, light and tonality in your images and create unique enhancements with professional results. With 52 filters and over 250 effects found in Color Efex Pro, you can perform high quality retouching, color correction, and endless creative enhancements to your photographs. Download a free Trial version.

Viveza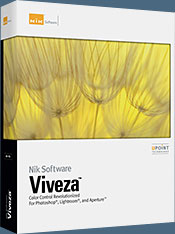 The most powerful tool to selectively control color and light in photographic images without the need for complicated selections or layer masks.

Two of the most important factors in creating great photography are color and light. Mastering the art of selectively correcting or enhancing each of these is now possible for every photographer without the need for complicated masks or selections, or expert-level knowledge of Photoshop. Integrating award-winning U Point technology, Viveza is the most powerful and precise tool available to control light and color in photographic images.

U Point powered Color Control Points, placed directly on colors or objects in an image (such as sky, skin, grass, etc.), reveal easy-to-use controls that photographers can use to quickly adjust brightness, contrast or color in a fraction of the time needed by other tools. With Viveza you'll spend more time shooting photographs and save hours of image editing. Download a free Trial version.

Silver Efex Pro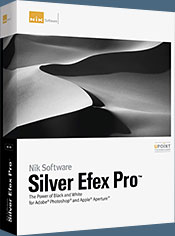 Complete power and control to create professional quality black and white images in one convenient tool.

Silver Efex Pro from Nik Software is the most powerful tool for creating professional quality black and white images from your photographs. For the first time, all the advanced power and control required for professional results have been brought together in one convenient tool.

Featuring Nik Software's patented U Point technology to selectively control the tonality and contrast of the image, Silver Efex Pro includes advanced imaging algorithms to protect against unwanted artifacts, a comprehensive collection of emulated black and white film types, a variable toning selector for adding traditional toning techniques, over 20 one-click preset styles, and a state-of-the-art grain reproduction engine that help produce the highest quality black and white images possible from your color images while providing more freedom to experiment. Download a free Trial version to use Silver Efex Pro.

Enter our exclusive discount coupon code - NIKPSS - during the checkout process at Nik Software for an instant 15% discount. This exclusive discount coupon code can be applied to all the latest Nik Software Photoshop plugins, including Silver Efex Pro, Color Efex Pro, Viveza, Sharpener Pro, and Dfine.



Photoshop Masking Plugin Fluid Mask - Exclusive Instant Discount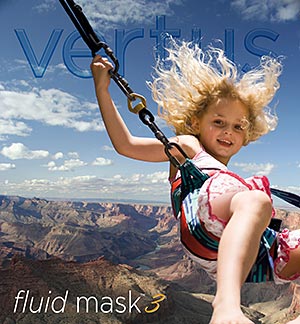 The 4 1/2 out of 5 star review of Fluid Mask at MacWorld begins by saying that this "Photoshop plug-in takes the pain out of extracting backgrounds," and goes on to recommend the latest version, stating that "Fluid Mask is a very effective tool for separating objects from their backgrounds. It offers a variety of useful features for tackling almost any difficult image, from wispy hair to complex foliage. Online video tutorials and live training sessions help ease the learning curve."

Our friends at Vertus, the makers of Fluid Mask Photoshop Plugin, have set up a special exclusive discount for PhotoshopSupport.com. Go to our Fluid Mask page for a special, exclusive discount link.

Fluid Mask is designed for photographers, image editors, graphic designers and all those who take digital image editing seriously. In a streamlined interface and workflow, Fluid Mask instantly shows key edges in the image and provides comprehensive easy to use tools that work with difficult-to-see edges and tricky areas like trees & lattices. Fluid Mask will also preserve all-important edge information for a professional quality cut out. Go to our Fluid Mask page for more info.



lynda.com Online Training Library - View Free Video Clips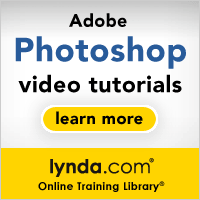 Subscriptions to the lynda.com Online Training Library provide anytime access to tens of thousands of video tutorials covering Photoshop, Illustrator, Dreamweaver, web design, digital imaging, 3D, digital video, animation, and many other topics. View free video clips.

For less than a dollar a day, members have the opportunity to stay current and keep skills sharp, learn innovative and productive techniques, and gain confidence and marketability - all at their own pace. Premium subscriptions include instructors' exercise files so that members can follow along with the exact examples onscreen. Customers learn at their own pace and may stop, rewind, and replay segments as often as necessary. View some free video clips (high resolution).



Did You Know You Could Create An Entire Website In Photoshop?
SiteGrinder Photoshop Plugin - Create Websites Instantly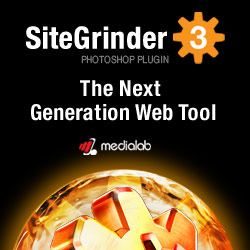 There often seems to be a strict division of labor within the world of web design and development. Creative professionals tend to stick to the Photoshop domain, while those well-versed in scripting are left to the task of implementing their work. Indeed, the two realms are quite different from each other, to which any of us even vaguely familiar with either can easily attest.

Essentially, Photoshop is a no-holds-barred design studio, offering the artist a seemingly endless array of creative options. On the other hand, HTML, CSS, Java and the like follow strict rules of engagement, requiring the developer to take any number of esoteric concerns into consideration in order to ensure that designs are properly displayed on the web.

Turn Photoshop Into A Complete Web Design Tool
SiteGrinder seeks to bridge this gap between design and development. Basically, SiteGrinder turns Photoshop into an easy-to-use and fully functional web design tool. With SiteGrinder, designers will now have the freedom to totally let their creativity loose and then, without skipping a beat, transfer their designs to the web. Bringing esthetic concerns together with more practical considerations, SiteGrinder is an amazingly powerful tool that would make a fantastic addition to any web designer's bag of tricks. Mac OS X and Windows versions of the SiteGrinder unlockable demo are available now via download.




PHOTO CREDIT: Full moon as seen from the International Space Station.