Buy. Download. Create. Get Flash Pro CS5 now at the Adobe Store.


Get Flash Pro, Dreamweaver, and Photoshop Extended with CS5 Web Premium.


Get the Flash 30-day free trial on our Flash 8 Product Review Page.





Macromedia Flash 8: A Tutorial Guide - Jay Armstrong and Jen deHaan


Macromedia Flash MX 2004 Hands-On Training - Rosanna Yeung


Macromedia Flash MX 2004 for Windows and Macintosh - Katherine Ulrich



Adobe Flash Pro CS5 - Best Deals From Adobe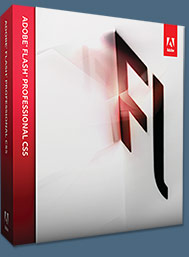 Adobe Flash Professional CS5 is the industry standard for interactive authoring and delivery of immersive experiences that present consistently across personal computers, mobile devices, and screens of virtually any size and resolution. Use Flash Professional CS5 to express your creative vision and attention to detail and design pixel-perfect interactive content with exceptional typography, flexible layouts, and incredibly smooth animation.

Wow your audience and produce engaging rich video content and interactivity that contains expressive, lifelike motion and animation. Import your design from Adobe Photoshop CS5 Extended, Illustrator CS5, or InDesign CS5, and then add interactivity with Flash Professional CS5 to bring your work to life. Learn more about Flash Pro CS5 Extended.

Find CS5 upgrade options and Creative Suite 5 deals at the Adobe Store. See CS5 pricing in UK currency at the Adobe UK Store. Visit the Adobe Special Offers page to find the latest deals. Save 80% on Adobe Student Editions. Try before you buy — download a free Adobe Flash Pro CS5 trial.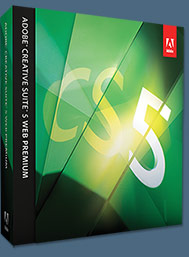 Adobe Creative Suite 5 Web Premium
Adobe Creative Suite 5 Web Premium allows you to design and develop content for delivery virtually anywhere with integrated tools in the Adobe Flash Platform — Flash Catalyst CS5, Flash Professional CS5, and Flash Builder 4. Leverage dynamic application support and CSS enhancements in Adobe Dreamweaver CS5. Extend Dreamweaver capabilities through integration with Adobe BrowserLab — one of the new Adobe CS Live online services — a fast and accurate solution for cross-browser compatibility testing.

Adobe Creative Suite 5 Web Premium combines Dreamweaver CS5, Flash Catalyst CS5, Flash Professional CS5, Flash Builder 4, Photoshop CS5 Extended, Illustrator CS5, Acrobat 9 Pro, Fireworks CS5, Contribute CS5, Bridge CS5, and Device Central CS5. Download a free CS5 Design Premium 30 day trial.



Macromedia Flash 8 Bible
Macromedia Flash 8 Bible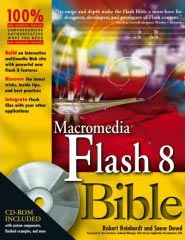 Squeeze every last ounce of power from the very latest edition of Macromedia Flash with this enhanced and revised edition of the bestseller. Written by two Flash experts, this user-friendly, in-depth guide is packed with tips, expert tutorials, and hidden tricks you won't find elsewhere.

Animate, script, manipulate data, send customer data to a server, create robust apps — Flash 8 does it all. Now you can too, with this Flash reference at your side.
Transform your Movie clips with new blend modes, filters, and gradients
Scale your artwork to perfection with a new nine-slice scaler
Get better looking text with crystal-clear FlashType font renderer
Create characters with lip-synching, walk cycles, and atmosphere
Understand the nuts and bolts of ActionScript code
Integrate and control video directly in Flash
Attach and bind data to components for a dynamic Web site
Work with Dreamweaver®, Fireworks®, ColdFusion®, Director®, and more
Create a game in a Flash and win
Make Flash movies for mobile devices
Bonus CD is loaded with sample files, custom components, and finished examples!
This is a user-friendly, yet in-depth book that appeals to both Web novices and experts , and contains everything you need to know to master the latest version of Flash.



Macromedia Flash 8 Bible - available at Amazon.com (34% off).

Web How-To: Planning Flash Projects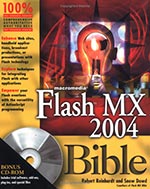 Whether you're a grand Flash master or a complete newbie, you need to map out your Flash projects before starting to animate them. Creativepro.com has posted an excerp from "Macromedia Flash MX 2004 Bible." Friom the intro:

"Perhaps you're just learning to create Flash animations. Perhaps you've already mastered the mechanics of Flash. Either way, before you jump willy-nilly into making that flashy Flash-enabled Web site, you need to think about what are its goals and objectives. You need to think about who its audience is and how they will use it. You need to think about how visitors will navigate from one place to another. In other words, you need to plan your project.

"In this excerpt from the "Macromedia Flash MX 2004 Bible," you'll learn what questions to ask and what solutions to propose when creating a Flash project. Along the way you'll pick up tips on what makes a good user interface and how to use Flash's Project Panel."

Read Web How-To: Planning Flash Projects.




Macromedia Flash 8: A Tutorial Guide
Macromedia Flash 8: A Tutorial Guide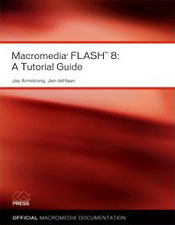 This guide allows you to learn specific Flash skills step-by-step at your own pace. Choose from among several tutorials to develop the skills that are most appropriate to the Flash projects you are working on at any given time. Each lesson leads you through the workflow for implementing a specific real-world feature or effect in your Flash applications.

In Macromedia Flash 8: A Tutorial Guide, learn how to:
Navigate the Flash workspace and use common document types
Use the Flash drawing tools and create engaging graphic effects
Use ActionScript to add interactivity and custom functionality to your documents

Connect your Flash projects to external data sources to create data-driven applications
Powerful development and design tools require thorough and authoritative technical advice and documentation. When it comes to Macromedia Flash, no one is more authoritative than Macromedia's own development and writing teams. Now their official documentation is available to you in printed book form. As you work, keep this guide by your side for ready access to valuable information on using Flash. We've designed it so that it's easy to annotate as you progress.

About the Author
Jay Armstrong and Jen deHaan are members of the staff of the Instructional Media Development team at Macromedia. The Macromedia Instructional Media Development (IMD) team is a group of technical writers, editors, and production engineers who create the technical documentation for all Macromedia products and technologies. Through their years of insider, hands-on product experience, the IMD team is uniquely qualified to bring you these official Macromedia-branded documentation reference guides.



Available at Amazon.com (34% off).




Macromedia Flash MX 2004 Hands-On Training
Macromedia Flash MX 2004 Hands-On Training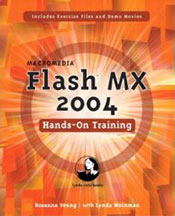 You've seen its potential — its new extensible architecture, its faster run-time performance, its redesigned interface. Now it's time to tap it.

When you're ready to sit down with a trusted instructor and learn the ins and outs of Macromedia's extensive upgrade to its popular interactive tool Flash MX 2004, this is the place to turn. Using lessons based on real-life projects, this friendly guide takes you by the hand and leads you through the world of Flash MX 2004, covering its new interface, its drawing and color tools, animation basics, symbols and instances, motion, bitmaps, buttons, movie clips, ActionScript, sound, components and forms, video, and more.

You can follow the book's clear, step-by-step exercises at your own pace and view the techniques in action on the accompanying CD's QuickTime tutorials. (The CD also includes project and sample files.) In next to no time, you'll be integrating video, text, audio, and graphics into immersive, rich experiences with Flash MX 2004.

About the Author
Whoever told Rosanna that teaching was "work" sure hasn't witnessed her professorial multimedia magic at the Art Institute of California, where she teaches Web Design and Development classes. She's got this innate love for the creative freedom of the Web, and you can see the transference of her passion in the eyes of her students.



Available at Amazon.com (34% off).




Macromedia Flash MX 2004 for Windows and Macintosh
Macromedia Flash MX 2004 for Windows and Macintosh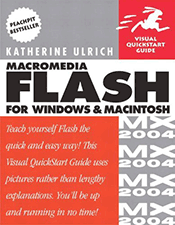 New timeline effects and behaviors, better run-time performance (which equals faster graphics display and video playback), native support for PDF and EPS forms, a slew of workflow enhancements, an improved programming language, a redesigned interface — these are just a few in the long list of new features that have Web designers salivating over the newest version of their favorite Web tool: Macromedia Flash MX 2004.

Whether you're brand new to the world of Flash development or a veteran chomping at the bit to take advantage of all the latest features, this task-based guide will have you creating high-impact, interactive Web sites with Flash MX 2004 in no time.

Best-selling author Katherine Ulrich is at it again here, using simple step-by-step instructions and loads of visual aids to cover every aspect of Flash design—from the basics of vector animation to sophisticated interaction and transition effects. Throughout, you'll find the direct, friendly language and plethora of tips that have become the hallmark of the popular Visual QuickStart series.

About the Author
Katherine Ulrich is a writer and editor specializing in graphics, publishing, and multimedia software. Her career includes a 12-year stint at Macworld magazine. Katherine wrote the previous best-selling editions of Flash: Visual QuickStart Guide.



Available at Amazon.com (34% off).




PHOTO CREDIT: Full moon as seen from the International Space Station.