Buy. Download. Create. Get Photoshop Elements now at the Adobe Store.


Photoshop for Students. Get super savings at the Adobe Academic Store.




Photoshop Elements Video Tutorial — Displace Filter

In this video clip tutorial you will learn the following:


All about the powerful functions of the Displace Filter.


How to create a displacement map.
12.5 MB / 6:16 min [Quicktime is required to view this video clip]
[click on either of the 2 screenshots below to launch the video]




This clip is from Adobe Photoshop Elements 3 Unleashed, hosted by Deke McClelland.


Read our review of this DVD.


Video Tutorial © Total Training.




Adobe Photoshop Elements 5.0 Maximum Performance
There's an interesting Photoshop Elements 5 book from Mark Galer that has come to my attention — Adobe Photoshop Elements 5.0 Maximum Performance. Part of the appeal is that the book ships with 5 hours of DVD tutorials and a whole bunch of free stock photos. That's a nice touch. And the book is getting a good amount of positive reviews, including this one: 'Using crafty work-arounds to achieve remarkable results, Mark Galer pushes Elements' capabilities to new levels.' — Christy Brandt, Director of Engineering, Photoshop Elements, Adobe Systems, Inc. Here's some press on Mark's book:

Adobe Photoshop Elements 5.0 Maximum Performance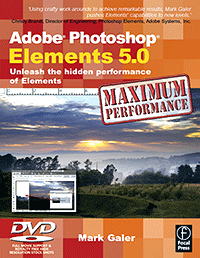 Get the most from your digital camera to produce high-end results that casual users only dreamed of. Your photos will look like a pro shot them as imaging guru Mark Galer shows you how to use critical but little-known techniques for professional quality editing.
Create awesome effects with no commercial lighting or studio equipment
Extend the dynamic range of your digital camera by merging multiple exposures
Give your shots the WOW! factor with advanced options for more power
Everything is at your fingertips with the DVD:
5 hours of video tutorials, cataloged into digestible snippets
Over 200 royalty-free, high-resolution images
Raw and 16-bit/Channel files
wMulti-layered project files, loadable presets and keyboard shortcut reference guide
Mark Galer is a senior lecturer in digital imaging at RMIT, Australia, is a Photoshop Elements Ambassador and is the author of 7 best-selling digital imaging books. 'Well written, well illustrated, with a good knack for explaining complex issues.' - Steve Caplin, digital illustrator and author of How to Cheat in Photoshop.



Buy Adobe Photoshop Elements 5.0 Maximum Performance at Amazon.com (34% off).


visit Mark Galer's site.


Photoshop Elements 5.0 - Special Offer - only $65.99 at Amazon.com.

The Photoshop Elements 4 Book for Digital Photographers
by Scott Kelby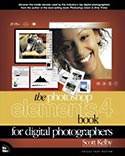 Like the best-selling former edition, The Photoshop Elements 4 Book for Digital Photographers breaks new ground by doing something for digital photographers that's rarely done – it cuts through the bull and shows you exactly "how to do it." It's not a bunch of theory; it doesn't challenge you to come up with your own settings or figure things out on your own. Instead, it does something that virtually no other Elements book has ever done – it tells you flat-out which settings to use, when to use them, and why.

If you're looking for one of those "tell-me-everything-about-the-Unsharp-Mask-filter" books, this isn't it. You can grab any other Elements book on the shelf, because they all do that. Instead, this book gives you the inside tips and tricks of the trade for correcting, editing, sharpening, retouching, and presenting your photos like a pro. You'll be absolutely amazed at how easy and effective these techniques are — once you know the secrets.
The Photoshop Elements 4 Book for Digital Photographers ($23.09 - 34% off)

Photoshop Elements 4 One-on-One
by Deke McClelland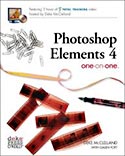 Photoshop Elements 4 One-on-One marks a landmark in computer publishing. In addition to offering 12 lessons of project-based tutorials with all sample files included, each lesson starts with a video introduction, hosted by the author himself, Deke McClelland. And these are no ordinary videos.

Produced by Adobe's official video training partner, Total Training, each video measures 960 by 540 pixels and plays at 30 frames per second, with no interlacing. That's a play rate of 15.5 million pixels per second, making this the first computer publication to include high-definition video, playable on any modern PC with a DVD-ROM drive. The picture is so crystal clear, it's like watching the world-reknowned expert work right along with you.


Photoshop Elements 4 One-on-One ($23.07 - 34% discount).







PHOTO CREDIT: Product shots & logo (© Total Training) plus blur on color pools.
© 2004 Eric Martin of Futura Studios