Get all your Photoshop upgrade options and the best prices at the Adobe Store.


Buy. Download. Create. Get Photoshop CS3 now at the Adobe Store.




Photoshop contest sites directory


Photoshop Contest Sites - Directory

There are many amazing Photoshop contest sites and some have great prizes to give away. Below is a list of the top 5 Photoshop contest sites, along with links to where you can submit your own material to a contest, where you can find informative tutorials that may help your skills before you enter a Photoshop contest, and where you can find details on the contest prizes. Have fun, and if you do decide to participate, be bold and be confident — because everyone's looking for the WOW factor!



Worth1000.com - Photoshop Contest Site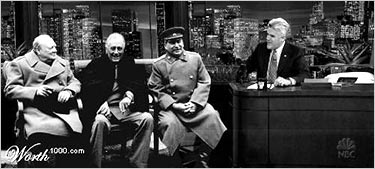 As it says on the site, "Worth1000.com is a daily image manipulation contest site and it's also a gallery of all the entries ever produced for these contests. Whether or not you want to play or just browse, a very good starting point when visiting this site is the Galleries page. As this contains only the best of the site, most of the images here are amazing."

Worth1000.com is hugely popular and has been featured in USAToday, on CNN, Good Morning America and even made the cover of the New York Post. This is a very big website with lots to explore. You can start by reviewing their FAQ section.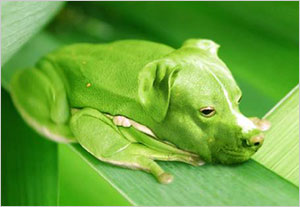 You can find out all the details you'll need to enter the contests, where you can find material for your entries, where to find contests for new users, how to submit an entry to a Photoshop contest, and all about their credit system. You can also find info on the size restrictions of the Photoshop contest entries, and a detailed explanation of how the voting system works.

The site also features a Photoshop Contest Tutorials Page. Some notable tutorials are How To Draw Hair In Photoshop, Making Bubbles With Your Own Custom Brush, and How To Create Rain. Worth1000 has also published a book of tutorials — "I've Got a Human in my Throat: Create MORE Optical Delusions with Adobe Photoshop."

When we interviewed site owner Avi Muchnick, we asked him which contests over the past few months had impressed him the most and this is what he had to say: "As far as my personal recent favorites, this contest makes my mouth water, and I always love feeling nostalgic."




PhotoshopContest.com - Photoshop Contest Site With Prizes

On PhotoshopContest.com you can enter modified images into contests appropriately called Photoshop contests.


Other members then view, vote and comment on your work. The contest entry with the most votes, wins. You can win some very nice prizes, while trading secrets with some of the world's most talented graphic artists.

The site also features a Photoshop Tutorials Section. You can find tutorials on Displacement Of Water, The Liquify Filter, Object Transformation, Making Snow, Color Correction, Depth of Field, Creating Masks, Photoshop Brushes, and more.

PhotoshopContest.com also has a Forum and a Chat section, but you'll want to dive right in and start at the Photoshop Contest Galleries, where you'll see all the wonderful work being done. When you're ready to join, check the FAQ Page and you'll be set.



Photos.com Challenge on Graphics.com - Photoshop Contests

Photos.com Challenge on Graphics.com has been running for several years. Each month they provide a related set of images from Photos.com for you to download, with a challenge to create a new image from them. Photos.com Challenge on Graphics.com provides six prizes of subscriptions to Photos.com to the winners.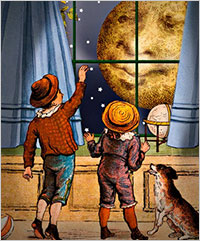 Visit the main page and you'll see Albums of previous contests. You can download the medium-resolution versions of the supplied images for each contest individually or as an archive containing high-resolution versions of all five. You must be logged in as a Graphics.com member to upload an image or comment on other images. It's free to join.

At the end of each month, Graphics.com staff pick six winning images, based on their creativity and technical merit. The creators of 3 of the winning images will receive 3 months of access to Photos.com, providing subscription download access to over 325,000 professional stock images, while 3 more will receive 1 month subscriptions.

Many of the entries are superb, and some have a surreal quality to them. I got lost in the galleries for quite some time, and chose Hello Moon from user beki as a sample of what you'll find.



FreakingNews.com - Photoshop Pictures Contest Site

FreakingNews.com is a daily Photoshop image manipulation contest site and it's also a huge gallery of all the entries ever produced for the contests. A good starting point when visiting the site is the Galleries Page. Here you'll find only the best of the Photoshop contest entries.



FreakingNews.com is a large site and sometimes hard to navigate, so the best thing to do is read through their Help Section, which will explain how the site works, how to enter a contest, and how to vote.

Also explore their Tutorials Section, where you can learn about creating effects in Photoshop using some simple but proven methods.



Fark.com - Photoshop Contests

Fark.com offers another huge selection of Photoshop manipulations. To get a complete overview of how the contests work, how to enter, and how to vote, read through their extensive FAQ Page. Of special interest is this section: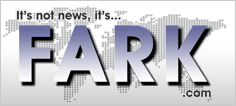 To participate in Fark Photoshop contests you will need only the following five things:
A Fark account
Image Editing software compatible with your OS (Adobe Photoshop/Creative Suite, The GIMP, Corel Draw/Painter, etc.) Fark.com does not endorse any specific product. These are just examples.
A reliable image host. Chances are you already have one - your own ISP. File hosting is included with your monthly service charges. Fark.com does not promote any of these hosting providers in particular, but a couple of examples are Flickr and Photobucket.
An understanding of Basic Farking HTML
An image that is within Fark's file size limits. (The exact numbers are at the bottom of this document)

So explore and see if you're into this slightly more risque Photoshop contest site.



Photoshop CS3 Upgrade Options And Bundles From The Adobe Store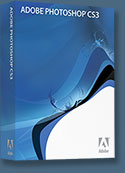 Photoshop CS3 Extended is ideal for film, video, and multimedia pros and for graphic and web designers using 3D and motion. Get the full version for US $999, or upgrade for US $349. The standard version of Photoshop CS3 is available for US $649, or as an upgrade for US $199. See all upgrade options at the Adobe Store. See our CS3 Resource Center for free Photoshop CS3 tutorials.

Photoshop Extended is also available as part of Adobe Creative Suite 3 Design Premium, which combines all-new CS3 versions of Photoshop, Flash Pro, Dreamweaver, Illustrator, InDesign and Acrobat 8 Pro. Upgrade options for customers in Europe, the UK, Australia, New Zealand and Asia can be found at the Adobe International Store.



Adobe Photoshop Lightroom Available At The Adobe Store



There are tons of new features in Adobe Lightroom 1.0 that you won't find in the beta version. From Clone and Healing functionality to metadata browsing, you'll be able to free-up post-processing time like never before. Get it now at the Adobe Store. Customers in Europe, the UK, Australia, New Zealand and Asia can find special pricing and offers at the Adobe International Store. For free Lightroom tutorials see our Lightroom tutorials page.



Special Offer - Fluid Mask - Photoshop Masking Plugin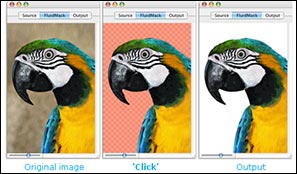 Fluid Mask is based on breakthrough segmentation technology inspired by the way the eye, optic nerve and brain perform visual processing. When an image is loaded, Fluid Mask's segmentation engine analyses the distribution of colors, finding the natural groups within the image. Together with information calculated about edges, gradients and textures, a model is constructed which divides the images into objects.

Vertus Software is offering Fluid Mask at the special 'friends and partner' discounted rate. This is an exclusive offer to visitors of PhotoshopSupport.com. To qualify, visit the Fluid Mask Discount Price page. Find out more about Fluid Mask on our special Fluid Mask Page.



Alien Skin Software - Photoshop Plugins - Special 10% & 20% Discounts On All Alien Skin Photoshop Plugins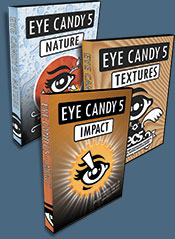 Our friends at Alien Skin Software have set us up with an exclusive special offer discount link that will give you some sweet savings at their online store.

Just follow this link and you'll see 10% and 20% price drops on their products when you get to the Alien Skin Online Store area (excludes the Eye Candy Bundle, which is already discounted at $199). This special offer includes a discount on Eye Candy: Textures, Eye Candy: Nature, Eye Candy: Impact, Exposure, Blow Up, and their latest release Snap Art.

Snap Art – $149 – our price $129
Blow Up – $199 – our price $179
Exposure – $199 – our price $179
Eye Candy 5: Impact – $99 – our price $79
Eye Candy 5: Nature – $99 – our price $79
Eye Candy 5: Textures – $99 – our price $79



SiteGrinder Photoshop Plugin - Create Websites Instantly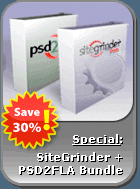 There often seems to be a strict division of labor within the world of web design and development. Creative professionals tend to stick to the Photoshop domain, while those well-versed in scripting are left to the task of implementing their work. Indeed, the two realms are quite different from each other, to which any of us even vaguely familiar with either can easily attest.

Essentially, Photoshop is a no-holds-barred design studio, offering the artist a seemingly endless array of creative options. On the other hand, HTML, CSS, Java and the like follow strict rules of engagement, requiring the developer to take any number of esoteric concerns into consideration in order to ensure that designs are properly displayed on the web.

Turn Photoshop Into A Complete Web Design Tool
SiteGrinder seeks to bridge this gap between design and development. Basically, this program turns Photoshop into an easy-to-use and fully functional web design tool. With SiteGrinder, designers will now have the freedom to totally let their creativity loose and then, without skipping a beat, transfer their designs to the web. Bringing esthetic concerns together with more practical considerations, this program is an amazingly powerful tool that would make a fantastic addition to any web designer's bag of tricks.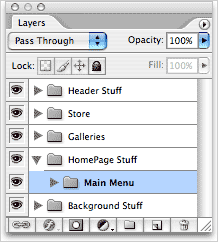 Generate Your Web Pages Directly From Photoshop
By generating web pages directly from Photoshop, you'll be able to spend much more time on the creative end of the spectrum, since you'll know right off the bat how well particular designs will translate to the web. No more going back to the Photoshop drawing board after getting a phone call from your development team, telling you that what you had envisioned doesn't have a chance of being displayed on the web. You can immediately visually and interactively test your designs, which permits you to then make changes to either esthetics or functions while it's still relatively early on in the design process.

Pricing and Availability
Mac OS X and Windows versions of the SiteGrinder unlockable demo are available now via download. SiteGrinder can be ordered from Media Lab's online store.



Photoshop CS3 Book - CS3 Essential Skills - By Mark Galer And Philip Andrews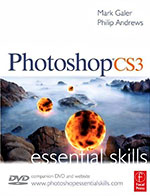 Brimming with beautiful pictures, Photoshop CS3 Essential Skills guides you through a project-based, progressive curriculum so that you can build all the essential skills to enhance photographs creatively and professionally with Photoshop CS3. If you are an aspiring professional, enthusiastic amateur photographer, or a student learning photography, digital imaging, art and design, or design graphics, you'll be amazed at the stunning results you can achieve. A DVD is included free.

The Essential Skills Photography Series from Focal Press uniquely offers a structured learning experience for photographers of all ages, with both the underlying theory and loads of invaluable 'how to' and real-life practice projects - all from the most talented photography practitioners/educators in the world.

Read 2 free sample chapters:


Adjusting Exposure in Adobe Camera Raw CS3


Photoshop CS3 Tutorial High Dynamic Range

Special book offer - save 24%


Photoshop CS3: Essential Skills (Amazon.com - $28.08 - save 24%)



Photoshop CS2 Book - Photoshop CS2: Essential Skills - By Mark Galer And Philip Andrews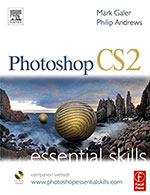 An inspirational and user-friendly guide to creative image editing, Photoshop CS2: Essential Skills provides direction for photographers and designers alike who have ventured into the realm of the 'digital darkroom.' The book offers a progressive curriculum to guide you through Photoshop with a series of clear, step-by-step projects designed to place knowledge into a practical context.

Whether you simply want to retouch an image, create a glamour makeover or create a highly sophisticated montage - this book will give you the essential skills to complete the work to a professional standard.

Read 2 free sample chapters:


How To Sharpen An Image In Photoshop — Advanced Sharpening Techniques


Working With Shadows In Photoshop - Advanced Shadow Techniques

Special book offer - save 37%


Photoshop CS2: Essential Skills (Amazon.com - $20.76 - save 37%)



Exclusive 20% Discount On Select Total Training Products & Bundles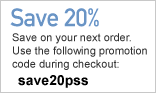 To redeem our exclusive discount coupon, use promotion code save20pss in your shopping cart. You could save hundreds of dollars. Use this special link to see the full offer.

Total Training for Adobe Photoshop
Learn Adobe Photoshop with 21 hours of interactive Adobe Photoshop tutorials. This is training for real-world situations and includes additional tips and techniques used by the pros.

View Sample Photoshop, Dreamweaver and Flash Pro Video Tutorials


Free Adobe Photoshop CS3 video tutorials


Free Adobe Photoshop CS2 video tutorials


Free Adobe Dreamweaver video tutorials


Free Adobe Flash Pro video tutorials




PHOTO CREDIT: Full moon as seen from the International Space Station.