Photoshop for Students. Get super savings at the Adobe Academic Store.


Buy. Download. Create. Get Photoshop CS3 now at the Adobe Store.




Photoshop Express - Free Online Photoshop - Latest News
Here are the latest news articles on Photoshop Express, the free online version of Photoshop. We will always update this page with the latest Photoshop Express news.



Free Online Photoshop Express Updated With New Features



Have you been using Photoshop Express much? If not, check out the new features they've added to the free online version of Photoshop. Here's a partial list:

Seamless uploading
Upload your photos more easily with our new Photoshop Express Uploader. Drag and drop from your desktop or another favorite photo app.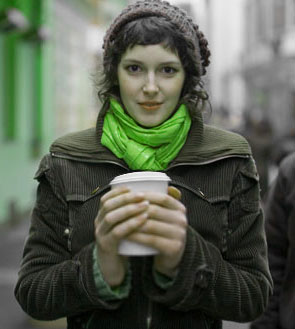 Add music
Want to add a little soul to your slide show? Choose a tune and pick your music track when you're creating your slide show.
Print your pics
Get prints of your digital photos on Shutterfly.
Tag your photos
Make your life a little easier — add tags to your photos. Then you can view and sort by name, subject, party, whatever.
Download
Now you can download photos from anyone's public albums, and keep a collection of your favorites.
Connect with Eye-Fi
Wirelessly upload shots directly from your camera to your photo library with an Eye-Fi Card.
Resize
Pick a preset image size for mobile, web, or e-mail and resize with one click, or set your own width and height.



Photoshop.com Accepting New Members - Free And Membership Online Gallery Service

Just got an email alert that Photoshop.com is now accepting new members as well as existing members of Photoshop Express beta.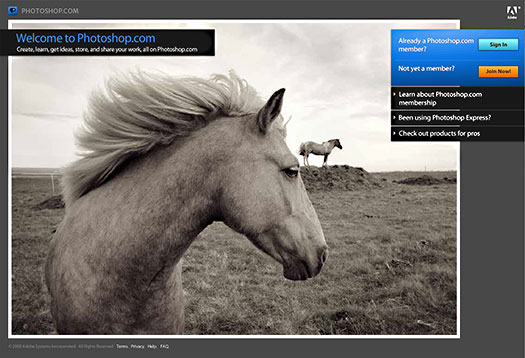 If you're not sure what this service is, here's some quick info from Adobe:

Photoshop.com is the complete solution for managing, editing, storing, and sharing your photos online, with tutorials, inspiration and more. Photoshop.com is available from any web-enabled computer, and directly from within Adobe Photoshop Elements 7 or Adobe Premiere Elements 7 software. Organize, tweak, create, e-mail, display, and store--all with Photoshop.com.

Point a web browser at www.photoshop.com and you can set up a no-obligation free account in just a few minutes. The Photoshop.com service is currently available at two levels of membership--Basic and Plus. The Basic level is free, and the Plus level starts at $49.99 per year. You can also purchase additional storage space for both the Basic or Plus levels for an additional annual fee.

I just went and secured my personal space. It might be a good idea to do that sooner than later if you want to capture a special name. If available, you'll get a personal URL. I was able to get http://jenniferapple.photoshop.com. I did a quick test and posted one public photo, of Lola, our Bull Mastiff puppy.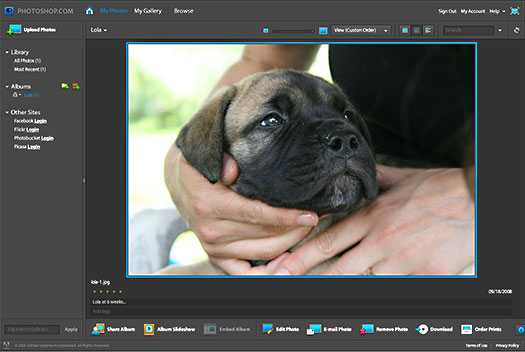 If you need to learn more about Photoshop.com, visit the Adobe Photoshop.com pages where you can find all the FAQs and support documents to get you up and running. There are also some Photoshop.com online forums to share feedback and sound off with other members. Adobe Photoshop.com technicians are watching and will answer the questions. So go get your space!



lynda.com Releases Photoshop Express Beta Essential Training



Photoshop Express is a free, web-based tool for editing, storing, organizing, and sharing digital images. There is nothing to install and it is available from any web browser with a current version of the Flash plug-in.

In Photoshop Express Beta Essential Training, Adobe Certified Instructor Chad Perkins explores every facet of this unique application, and explains how beginners and professionals alike can make use of it. He walks users through the processes of opening a free account; uploading images; and creating albums, galleries, and slideshows. Chad discusses each editing feature in detail, and demonstrates how to integrate Photoshop Express with other online photography and social networking communities. Example files accompany the course. Topics Include:
Understanding what makes web applications different
Getting images into Photoshop Express
Rating, sorting, and captioning images
Removing red-eye and blemishes
Adjusting brightness, color, and sharpness •Customizing 2D and 3D slideshows
Sharing galleries publicly or privately
Exchanging images with Facebook, Flickr, Photobucket, and Picasa
Duration: 2.5 hours. Find out more at the lynda.com site. Some free samples are available.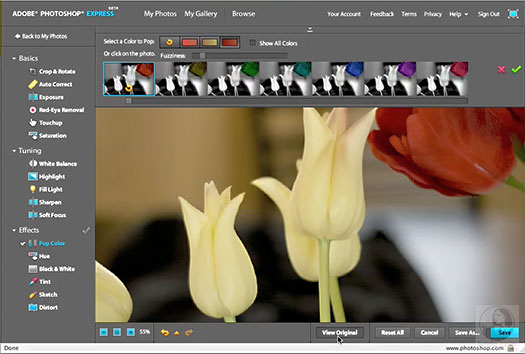 About Chad Perkins
Chad Perkins is an Adobe Certified Instructor and Certified Expert in Photoshop, After Effects, Premiere, Illustrator, InDesign, and Acrobat. He was also one of the first in the world to become certified in Encore DVD. He is an Adobe Certified Video Specialist and Certified Print Specialist, and is CompTIA CTT+ certified. He's also done prepress work with The Wall Street Journal and produced art for Warner Bros., Paramount, and more. Chad puts out a video podcast with his brother, Todd, called All Things Adobe.




Adobe Photoshop Express Public Beta Adds Flickr Support



Hours after sending out the press release below, Adobe released the following statement:
"As you know, we were preparing updates to the Photoshop Express beta on May 7th that added significant new functionality to the product. However, prior to going live, we discovered a bug that requires a fix. We're committed to delivering a quality experience with Photoshop Express and don't want to send out an update that isn't ready for prime time. We're working on a quick resolution. Stay tuned - we'll have an exact time frame on when you can expect these new Photoshop Express features soon." - Adobe Photoshop Express Team
Original Press Release
Adobe Systems Incorporated today announced a major update to Adobe Photoshop Express beta, including integration with Flickr and a "Save As" functionality, two of the most requested features by early adopters. Additionally, a new embeddable player will allow users to post their Photoshop Express slideshows to sites such as Facebook, Myspace, blogs and more. Released as a public beta in March 2008, Photoshop Express is a free rich Internet application (RIA) available to anyone who wants to store, sort and show off digital photos with eye-catching effects.

As the newest addition to the Photoshop family line, Photoshop Express has taken much of Adobe's best image-editing technology and made it simple and accessible to a new online audience. Within the first week of launch, hundreds of thousands of people registered for an account and within the first month, over 60,000 public Web albums were created.
READ FULL STORY.



Photoshop Express Basic Overview From Justin Seeley
Photoshop Express is Adobe's new free online Photoshop program. This service is offered by Adobe free of charge and gives the user 2GB of storage space and also a custom web address to display their photo galleries. We asked Photoshop expert and teacher Justin Seeley some questions about Photoshop Express and here's what he answered:
Who should use Photoshop Express?
Adobe Photoshop Express isn't going to entice professional photographers. In fact it may not even attract the attention of the serious hobbyist, but for entry-level consumers and younger users (those who tend to spend more time online in the first place), this will be a great service where they can enhance the quality of their photos and quickly get them online to share with friends and family.
What are limitations of Photoshop Express?
Photoshop Express is more like a light version of Lightroom than Photoshop. There are no layers or layer masking tools available to you, and no curves or levels either. These are essential features for most "real" Photoshop users and it's because of these missing features that I don't foresee very many traditional users paying much attention to this service. There are a few effects, but they are a far cry from the filters most people are used to.





How do I signup and get free web space for a gallery?
To get started with Photoshop Express you'll need to visit the Photoshop Express website. When you get to this page you'll need to navigate to one of the buttons that say "Join Now." When you click this you'll be prompted to fill-in a little personal information, and also have the chance to pick out your new gallery address (yourname.photoshop.com). Once you've completed the sign-up process, Adobe will send you a confirmation email for you to verify your account. Just click the link to verify your account and enjoy your 2GB of free storage and web gallery features!
How do I use the Photoshop Express tools?
The adjustments available to you are broken down into three main categories: Basics, Tuning, and Effects. The Basics panel includes Crop & Rotate, Auto Correct, Exposure, Red-Eye Removal, Touchup, and Saturation. Tuning includes White Balance, Highlight, Fill Light, Sharpen, and Soft Focus. The Effects panel includes options for Pop Color, Hue, Black & White, Tint, Sketch, and Distort.





The tools are very simple to use. Most of them are just point-and-click adjustments that are instantly applied to your images. However, some of them do require the occasional value or slider adjustment but for the most part you just pick and choose your options until you get the desired look on your photographs.
How do I use Photoshop Express to prep images for Facebook, email, and websites?
Photoshop Express integrates seamlessly with several sites including Facebook, Photobucket, and Picasa. To access your photos from these other sites simply go to the My Photos section of PS Express, and login to your accounts by clicking the links in the left sidebar.
Once you've edited your photos, you can then add them to an album, or to your public gallery. You also have the option to e-mail your edited photos, grab a link code for your gallery to share on the web, and even grab an embed code to include your gallery on your website or blog.

How do I save settings in Photoshop Express?
Saving settings is a snap! All you have to do is apply your desired settings and click the save button in the bottom right corner of the editing window. If you make a mistake, or decide you don't like the settings you've applied, you also have the option to reset your settings and go back to your original photo. Comparing your images is easy too. Simply click and hold on the Show Original button to get an instant preview of what your photo looked like before you applied your adjustments.

How do I learn more advanced tricks?
If you'd like to learn more about Photoshop Express and the capabilities you have when using it, check out my website at JustinSeeley.com!




The Free Photoshop Express Has Launched
From John Nack: "I'm happy to report that Photoshop Express, Adobe's new online tool for organizing, editing, and sharing images, has launched in beta form. Some highlights at a glance: Includes tools for applying spot healing, distortions, sharpening/softening, color tweaks, image filters, and more, offers 2GB of space for storing images, supports tie-ins to Facebook, MySpace, and Picasa, runs in any browser on Mac, Windows, or Linux using the Flash Player (v9), will remain free, with paid service adding more functionality."

Go to the Free Photoshop Express, The Online Photoshop.



Free Photoshop Express - Press Release
Adobe Systems Incorporated (NASDAQ: ADBE) today announced Adobe® Photoshop® Express public beta, a free Rich Internet Application (RIA) available to anyone who wants to store, sort and show off digital photos with eye-catching effects. During the public beta period, Adobe will solicit Photoshop Express user feedback on product features and functionality, which will continue to evolve over time. As the newest addition to the Photoshop family line, Photoshop Express has taken much of Adobe's best image editing technology and made it simple and accessible to a new online audience. Photoshop Express allows users to store up to 2 gigabytes of images online for free, make edits to their photos, and share them online in creative ways, including downloading and uploading photos from popular social networking sites like Facebook.

More Adobe Photoshop Express Teaser Previews
Martin LaMonica at CNET News has posted an article about another public viewing of the highly anticipated free online version of Photoshop called Photoshop Express. The article has some screenshots of a presentation given by Adobe product manager Geoff Baum at the recent Max 2007 developer conference. You can also view a video of the Photoshop Express demo.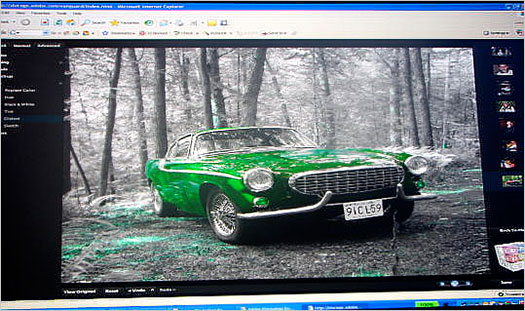 From the article:
The application is aimed at consumers, rather than professional developers, and complements existing versions. Baum showed how people can quickly make changes to images with the program. With one click, people can fix red eyes or blemishes. The application also generates a thumbnail of an image with various effects, like sepia tone, which people can click on to select.

Below the main image editing window, there is a timeline of thumbnail images that lets people view all the changes they've made to a photo and revert to older versions. The features that got perhaps the most applause from Max attendees was the ability to selectively change colors in an image.
Read Adobe Flashes More Looks At Online Photoshop Express at CNET News.



Wired Blog
Adobe Shows Off Online Version Of Photoshop
By Scott Gilbertson September 07, 2007
Adobe showed off its upcoming online image editor at the ongoing Photoshop World conference in Las Vegas. The online editor, known as Photoshop Express, was first mentioned earlier this year when Photoshop CS 3 was released, but the above screenshot is one of the first times it's been shown in action. The interface design seems more heavily influenced by Adobe Lightroom than Photoshop itself, and some element look a bit like Apple's iPhoto.



The Utility Belt
A peek at Adobe's online version of Photoshop
Adobe Systems (ADBE) CEO Bruce Chizen said earlier this year that the company would release a Web-based Photoshop product, and on Thursday at the Photoshop World conference, the company gave the first peek at its efforts to do just that. But don't throw out your shrink-wrapped version just yet. Details are scarce so far, but it's already clear that Adobe's online product, Photoshop Express, won't be a replacement for the real thing.




NOTE: This article features 6 screenshots from the upcoming Photoshop Express. This article also has an overview of the following Photoshop Express features:
TOOL BOX — From here it seems we can crop an image, rotate it, or calibrate the colors.
PREVIEW PANES — Above the image are six preview panes, which probably show slightly different options for how the main image could look if a certain effect were run on it.
PHOTO BIN — Over on the right side of the browser there appears to be a bin that shows the various photos that are available to be edit
FIXING MISTAKES — At the bottom of the browser there are some buttons that seem to provide ways to clear up error.
TAKING IT OFFLINE — Finally, in the lower right-hand corner of the screen, we see options for saving this image edit, exporting it (probably saving it to the desktop rather than to online storage), and "Back To Photos," which might take the user back to a full menu of their online images.



John Nack
"Photoshop Express" RIA sneak-peeked today
Today the crowd at Photoshop World got a quick preview of Photoshop Express, a new application currently in development at Adobe. First hinted at by Adobe CEO Bruce Chizen some six months ago, Photoshop Express isn't meant to duplicate/replace Photoshop CS3 or Photoshop Elements. Rather, it's a new member of the Photoshop family that's meant to make Adobe imaging technology immediately accessible way to large numbers of people.



Photoshop CS3 Upgrade Options And Bundles From The Adobe Store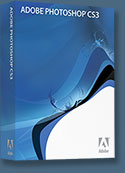 Photoshop CS3 Extended is ideal for film, video, and multimedia pros and for graphic and web designers using 3D and motion. Get the full version for US $999, or upgrade for US $349. The standard version of Photoshop CS3 is available for US $649, or as an upgrade for US $199. See all upgrade options at the Adobe Store. See our CS3 Resource Center for free Photoshop CS3 tutorials.

Photoshop Extended is also available as part of Adobe Creative Suite 3 Design Premium, which combines all-new CS3 versions of Photoshop, Flash Pro, Dreamweaver, Illustrator, InDesign and Acrobat 8 Pro. Upgrade options for customers in Europe, the UK, Australia, New Zealand and Asia can be found at the Adobe International Store.



Adobe Photoshop Lightroom Available At The Adobe Store



There are tons of new features in Adobe Lightroom 1.0 that you won't find in the beta version. From Clone and Healing functionality to metadata browsing, you'll be able to free-up post-processing time like never before. Get it now at the Adobe Store. Customers in Europe, the UK, Australia, New Zealand and Asia can find special pricing and offers at the Adobe International Store. For free Lightroom tutorials see our Lightroom tutorials page.



Special Offer - Fluid Mask - Photoshop Masking Plugin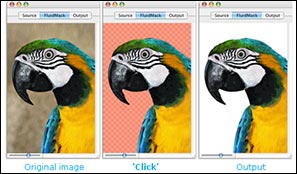 Fluid Mask is based on breakthrough segmentation technology inspired by the way the eye, optic nerve and brain perform visual processing. When an image is loaded, Fluid Mask's segmentation engine analyses the distribution of colors, finding the natural groups within the image. Together with information calculated about edges, gradients and textures, a model is constructed which divides the images into objects.

Vertus Software is offering Fluid Mask at the special 'friends and partner' discounted rate. This is an exclusive offer to visitors of PhotoshopSupport.com. To qualify, visit the Fluid Mask Discount Price page. Find out more about Fluid Mask on our special Fluid Mask Page.



SiteGrinder Photoshop Plugin - Create Websites Instantly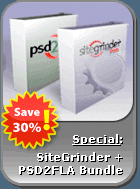 There often seems to be a strict division of labor within the world of web design and development. Creative professionals tend to stick to the Photoshop domain, while those well-versed in scripting are left to the task of implementing their work. Indeed, the two realms are quite different from each other, to which any of us even vaguely familiar with either can easily attest.

Essentially, Photoshop is a no-holds-barred design studio, offering the artist a seemingly endless array of creative options. On the other hand, HTML, CSS, Java and the like follow strict rules of engagement, requiring the developer to take any number of esoteric concerns into consideration in order to ensure that designs are properly displayed on the web.

Turn Photoshop Into A Complete Web Design Tool
SiteGrinder seeks to bridge this gap between design and development. Basically, this program turns Photoshop into an easy-to-use and fully functional web design tool. With SiteGrinder, designers will now have the freedom to totally let their creativity loose and then, without skipping a beat, transfer their designs to the web. Bringing esthetic concerns together with more practical considerations, this program is an amazingly powerful tool that would make a fantastic addition to any web designer's bag of tricks.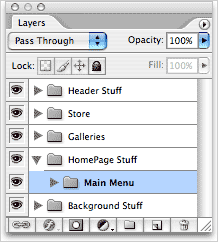 Generate Your Web Pages Directly From Photoshop
By generating web pages directly from Photoshop, you'll be able to spend much more time on the creative end of the spectrum, since you'll know right off the bat how well particular designs will translate to the web. No more going back to the Photoshop drawing board after getting a phone call from your development team, telling you that what you had envisioned doesn't have a chance of being displayed on the web. You can immediately visually and interactively test your designs, which permits you to then make changes to either esthetics or functions while it's still relatively early on in the design process.

Pricing and Availability
Mac OS X and Windows versions of the SiteGrinder unlockable demo are available now via download. SiteGrinder can be ordered from Media Lab's online store.



Photoshop CS3 Book - CS3 Essential Skills - By Mark Galer And Philip Andrews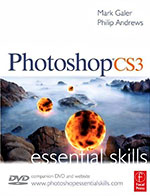 Brimming with beautiful pictures, Photoshop CS3 Essential Skills guides you through a project-based, progressive curriculum so that you can build all the essential skills to enhance photographs creatively and professionally with Photoshop CS3. If you are an aspiring professional, enthusiastic amateur photographer, or a student learning photography, digital imaging, art and design, or design graphics, you'll be amazed at the stunning results you can achieve. A DVD is included free.

The Essential Skills Photography Series from Focal Press uniquely offers a structured learning experience for photographers of all ages, with both the underlying theory and loads of invaluable 'how to' and real-life practice projects - all from the most talented photography practitioners/educators in the world.

Read 2 free sample chapters:


Adjusting Exposure in Adobe Camera Raw CS3


Photoshop CS3 Tutorial High Dynamic Range

Special book offer - save 24%


Photoshop CS3: Essential Skills (Amazon.com - $28.08 - save 24%)



Photoshop CS2 Book - Photoshop CS2: Essential Skills - By Mark Galer And Philip Andrews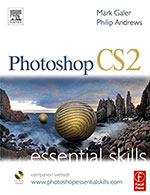 An inspirational and user-friendly guide to creative image editing, Photoshop CS2: Essential Skills provides direction for photographers and designers alike who have ventured into the realm of the 'digital darkroom.' The book offers a progressive curriculum to guide you through Photoshop with a series of clear, step-by-step projects designed to place knowledge into a practical context.

Whether you simply want to retouch an image, create a glamour makeover or create a highly sophisticated montage - this book will give you the essential skills to complete the work to a professional standard.

Read 2 free sample chapters:


How To Sharpen An Image In Photoshop — Advanced Sharpening Techniques


Working With Shadows In Photoshop - Advanced Shadow Techniques

Special book offer - save 37%


Photoshop CS2: Essential Skills (Amazon.com - $20.76 - save 37%)



Exclusive 20% Discount On Select Total Training Products & Bundles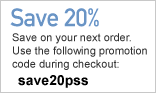 To redeem our exclusive discount coupon, use promotion code save20pss in your shopping cart. You could save hundreds of dollars. Use this special link to see the full offer.

Total Training for Adobe Photoshop
Learn Adobe Photoshop with 21 hours of interactive Adobe Photoshop tutorials. This is training for real-world situations and includes additional tips and techniques used by the pros.

View Sample Photoshop, Dreamweaver and Flash Pro Video Tutorials


Free Adobe Photoshop CS3 video tutorials


Free Adobe Photoshop CS2 video tutorials


Free Adobe Dreamweaver video tutorials


Free Adobe Flash Pro video tutorials




PHOTO CREDIT: Full moon as seen from the International Space Station.