Buy. Download. Create. Get Photoshop Elements 6 at the Adobe Store.


Elements 6 for Students. Get super savings at the Adobe Academic Store.




Adobe Photoshop Elements 6 Best Books - Introduction
Adobe has released Photoshop Elements 6, a major upgrade, and we will post the best books as they become available. Here is the first one.

Photoshop Elements 6.0 Maximum Performance.
Unleash the hidden potential for professional image editing in Adobe Photoshop Elements with Photoshop Elements 6.0 Maximum Performance, a project-based, real-world guide.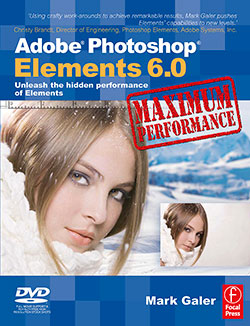 Using step-by-step instructions and accompanying movie tutorials, Mark Galer leads you through the less well-known and most powerful post-production editing techniques Adobe Photoshop Elements has to offer. Cunning tricks and clever workarounds in this book show you how to create inspiring, professional-looking images and perform tasks you only thought possible in the full Adobe Photoshop package.

Whether you're an imaging professional or a photography enthusiast, this book will help you get the maximum performance from your software. Learn how to:
Create striking effects with no commercial lighting or studio equipment
Extend the dynamic range of your digital camera by merging multiple exposures
Optimize, enhance and montage images with stunning results
The accompanying DVD provides extensive support with movie tutorials for all projects, high resolution images, multilayered files of completed projects, a stock library and a keyboard shortcut guide.

Mark Galer is a freelance photographer, accomplished lecturer and best-selling author of number books on photography. He is an official Adobe Ambassador for Adobe Photoshop and Adobe Photoshop Elements.

We have a free sample chapter from the book, Working With Photomerge In Elements 6. You can read the intro below. This is a full tutorial on how to work with Photomerge, a greatly improved feature in Elements version 6. This sample chapter will also show you the expertise Mark Galer has when it comes to teaching advanced and powerful tips and tricks to the new user.

Sample Chapter - Working With Photomerge In Elements 6
They say that sequels are never as good as the original - try telling that to Adobe. There fully revamped Photomerge now comes in three flavors and is 'fully fantastic'. You get to explore the greatly improved Photomerge features only in Elements 6 and Photoshop CS3. Photomerge is now capable of aligning and blending images without any signs of struggle - banding in smooth areas of tone. The fully revised Photomerge feature first made its appearance with CS3 but the maths seems to have got even better with the release of
Elements 6 and the stitching is so clever it will really have you amazed at the quality that can be achieved inside this budget program.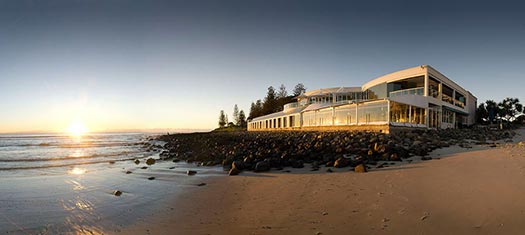 The quality will be even better if you capture the component images of your panorama in vertical format (to reduce the effects of converging verticals) with a 50% overlap and you also use a manual exposure, focus and white balance setting on your camera (or process the images identically in camera Raw). The results will now truly be seamless - an excellent way of widening your horizons or turning your humble compact into a 30-megapixel blockbuster.

The Photomerge feature in previous versions of Photoshop Elements (and the full version for that matter) left a lot to be desired. All of the flaws and weaknesses of the original feature are now gone with the release of Elements 6.0.

Read the full sample chapter, Working With Photomerge In Elements 6.



Photoshop Elements 6: The Missing Manual - Free Sample Chapter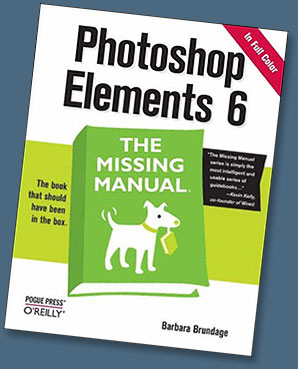 Bestselling author Barbara Brundage — whose day job is playing the harp — didn't plan on becoming an authority on Photoshop Elements, one the world's most popular photo-editing programs. Yet her newest publication — Photoshop Elements 6: The Missing Manual (O'Reilly, $26.39 at Amazon.com) — clearly secures Barbara's position as the premier Elements' expert.

"I'm a lowly musician, but if I can learn Elements anyone can," insists Barbara, the author of three previous books about Elements 3, 4, and 5. A few years back in 2001, Barbara chose Elements to create graphics for her new website and promo materials. She soon discovered the nifty software program also made arranging and publishing her harp music a whole lot easier. Then she got hooked on digital photography and relied on Elements to improve and organize her images.

"Fortunately, the folks at Missing Manuals know that sometimes it's easier for someone who isn't from a technical background to explain things to people who don't have a lot of technical knowledge," says Barbara about her road to authorship.

Indeed Barbara's technical knowledge combined with her appealing, down-to-earth writing style made her a perfect addition to the Missing Manual roster of authors. Founded by New York Times technology columnist David Pogue, O'Reilly's Missing Manual series specializes in producing beautifully written manuals for popular consumer software and hardware products — the book that should have been in the box.

Photoshop Elements 6: The Missing Manual provides the best possible guidance to scrapbookers, photographers at every level, budding graphic artists — anyone who wants to get the most out of the latest Elements upgrade. She clearly explains Photoshop Elements 6's exciting array of new features, including the new Quick Edit function, Windows Vista compatibility, improved RAW conversion, a handy Quick Selection Tool, and more. Under Barbara's intelligent tutelage, readers learn how to:
Import, organize, and fix photos quickly and easily.
Repair and restore old and damaged photos, and retouch any image.
Jazz up their pictures with dozens of filters, frames, and special effects.
Learn which tools the pros use — and finally understand how layers work!
Create collages and photo layout pages for greeting cards and other projects.
Get downloadable practice images and try new tricks right away.
Photoshop Elements 6: The Missing Manual progresses from simple to complex features. Those ready for the more sophisticated tools can easily jump around to learn specific techniques. As always, Barbara lets you know which Elements features work well, which don't, and why — all with a bit of wit and good humor. Adds Barbara: "Elements is wonderful software, but there's a lot going on there. I wanted to help people find their way around and to understand some of the great things they can do with the program."

Free Sample Chapter — Chapter 4: The Quick Fix
At the O'Reilly site you can find a great free sample chapter from the book — Chapter 4: The Quick Fix (PDF Format - 26 MB). From the intro:

With Elements' Quick Fix tools, you can dramatically improve the appearance of a photo with just a click or two. The Quick Fix window gathers easy-to-use tools that help adjust the brightness and color of your photos and make them look sharper. You don't even need to understand much about what you're doing. You just need to click a button or slide a pointer, and then decide whether you like how it looks.

If, on the other hand, you do know what you're doing, you may still find yourself using the Quick Fix window for things like shadows and highlights because the Quick Fix gives you a before-and-after view as you work. Also, the Temperature and Tint sliders can come in very handy for advanced color tweaking, like finessing the overall color of your otherwise finished photo. You even get two tools—the Selection brush and the Magic Selection brush—to help make changes to only a certain area of your photo.

In this chapter, you'll learn how to use all of the Quick Fix tools. You'll also learn about what order to apply the fixes so you get the most out of these tools. If you have a newish digital camera, you may find that Quick Fix gives you all the tools you need to take your photos from pretty darn good (the way they came out of the camera) to dazzling.
Buy Photoshop Elements 6: The Missing Manual at Amazon.com and save 34% off the cover price.



Total Training For Photoshop Elements 5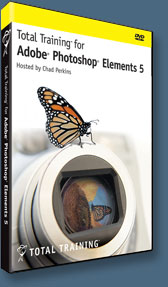 Total Training has released Total Training For Photoshop Elements 5, a new 6 hour DVD video series designed to help users master the extensive, sometimes hidden capabilities of Photoshop Elements 5. The lessons teach practical and real-world techniques for editing photos and creating impressive designs, and are for levels beginner to advanced.

The series starts with an overview of how to use the Quick Fix mode, correct colors, and import the raw image data from a digital camera. You'll also learn how to fix defects in an image, sharpen the focus, and add high-resolution text. The series also shows you how to load the cleaned up photos onto an iPod or cell phone.

Other highlights include discovering how to sort and organize large quantities of images using Photoshop Elements, learning how to create beautiful digital paintings from scratch, and learning how to create a digital scrapbook and then how to post it online.

The presenter, Chad Perkins, is a professional software educator and an Adobe Certified Expert in Photoshop CS2. Before becoming a freelance consultant, educator, and designer, Chad was a Digital 3D and Animation Specialist, and produced work for many Fortune 500 and Hollywood-based companies.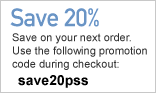 Total Training For Photoshop Elements 5 is priced at $49.99, but you can use our special discount link for an immediate 20% discount.

This package also includes a special bonus. Details are at the Total Training site. View some free clips from the training:

Photoshop Elements 5 Video Tutorial - Quick Fix Mode
In this video clip tutorial you will learn the following:


How to start working in the Quick Fix Mode.


How to use Auto Levels to get pure whites in your images.

Photoshop Elements 5 Video Tutorial - Create A DVD Cover
In this video clip tutorial you will learn the following:


How to make a dvd cover using a template.


How to select a theme and add a photo.

Photoshop Elements 5 Video Tutorial - Create Warped Text
In this video clip tutorial you will learn the following:


How to create warped text.


How to change styles and how to accept the text style changes.



Photoshop Elements 5 - Free Tutorial - Selecting Hair



Selecting & Extracting Hair - Masking Tutorial - Extraction Tips


One of the most challenging montage or masking jobs in the profession of post-production editing is the hair lift. Get it wrong and, just like a bad wig, it shows. The first secret step must be completed before you even press the shutter on the camera. Your number one essential step for success is to first shoot your model against a white backdrop, sufficiently illuminated so that it is captured as white rather than gray.

The post-production is the easy bit - simply apply the correct sequence of editing steps and the magic is all yours. This is not brain surgery — but follow these simple steps and you will join the elite ranks of Photoshop gurus around the world. Celebrity status is just a few clicks away.



Use The Displace Filter & Displacement Maps To Make A Realistic Flag


The layer blend modes are an effective way of merging or blending a pattern or graphic with a three-dimensional form. By using the blend modes the flag in this project can be modified to respect the color and tonality of the undulating silk beneath it.

The highlights and shadows that give the silk its shape can however be further utilized to wrap or bend the flag so that it obeys the material's shape and sense of volume. This can be achieved by using the Displace filter in conjunction with a 'displacement map'. The 'map' defines the contours to which the flag must conform. The final effect can be likened to 'shrink-wrapping' the flag to the 3-D form of the undulating silk.



Photoshop Elements 5 - New Books

Adobe Photoshop Elements 5.0 Maximum Performance

There's an interesting Photoshop Elements 5 book from Mark Galer that has come to my attention — Adobe Photoshop Elements 5.0 Maximum Performance. Part of the appeal is that the book ships with 5 hours of DVD tutorials and a whole bunch of free stock photos. That's a nice touch. And the book is getting a good amount of positive reviews, including this one: 'Using crafty work-arounds to achieve remarkable results, Mark Galer pushes Elements' capabilities to new levels.' — Christy Brandt, Director of Engineering, Photoshop Elements, Adobe Systems, Inc. Here's some press on Mark's book:

Adobe Photoshop Elements 5.0 Maximum Performance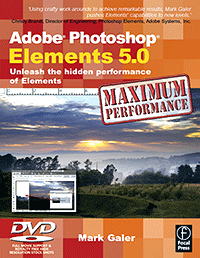 Get the most from your digital camera to produce high-end results that casual users only dreamed of. Your photos will look like a pro shot them as imaging guru Mark Galer shows you how to use critical but little-known techniques for professional quality editing.
Create awesome effects with no commercial lighting or studio equipment
Extend the dynamic range of your digital camera by merging multiple exposures
Give your shots the WOW! factor with advanced options for more power
Everything is at your fingertips with the DVD:
5 hours of video tutorials, cataloged into digestible snippets
Over 200 royalty-free, high-resolution images
Raw and 16-bit/Channel files
wMulti-layered project files, loadable presets and keyboard shortcut reference guide
Mark Galer is a senior lecturer in digital imaging at RMIT, Australia, is a Photoshop Elements Ambassador and is the author of 7 best-selling digital imaging books. 'Well written, well illustrated, with a good knack for explaining complex issues.' - Steve Caplin, digital illustrator and author of How to Cheat in Photoshop.



Buy Adobe Photoshop Elements 5.0 Maximum Performance at Amazon.com (34% off).


visit Mark Galer's site.


Photoshop Elements 5.0 - Special Offer - only $65.99 at Amazon.com.






PHOTO CREDIT: Product shot (© Adobe) plus blur on color pools.
© 2004 Eric Martin of Futura Studios