Buy. Download. Create. Get Photoshop CS4 now at the Adobe Store.


Try before you buy. Download any Adobe product for a free 30 day trial.


Photoshop for Students. Get super savings at the Adobe Education Store.



Photoshop Training directory


Adobe Photoshop Training & Photoshop Training Discount Codes



Need to learn Photoshop quickly? Online video training is now the number one way to learn. The way it works is simple: you subscribe to one of the Photoshop training services and are given access to an endless supply of Photoshop training delivered through online video.

We've been fortunate enough to have two of the leading companies in Photoshop training, Total Training and xTrain, offer us special discount codes and free video clips for you to enjoy. So read about each one below, then visit their special product pages. You'll find some free clips and special discount codes for 15% and 20% discounts on DVD Photoshop training and Photoshop online training.



Exclusive 15% Discount On xTrain Online Photoshop Training

xTrain is the world's easiest-to-use online training program for graphic design, web design, digital arts, digital photography, Photoshop, Photoshop Lightroom, and online marketing.



The xTrain mission is to provide the best, fastest, and most affordable training for everyone from digital professionals to students, hobbyists, and companies.

Online Photoshop training videos are taught by industry-best instructors and authors. Using a variety of teaching models, the xTrain Photoshop videos are designed to captivate and educate everyone. The video lessons are produced at a state-of-the-art 3D studio that combines the best of technology, video, books, and seminars to creative an active learning system.

Visit the xTrain Photoshop Training Page for free clips and a special discount code. At checkout enter the promotional code photoshopsupport and you'll receive an instant 15% discount.



Exclusive 20% Discount On Select Total Training Products & Bundles

Total Training is a pioneer in innovative online and DVD-based training for leading creative design, digital video, and Adobe Photoshop. They enjoy strategic partnerships with Adobe, including the distribution of their customized tutorials inside many of Adobe's software packages.



Ranging from casual hobbyists to the most seasoned professionals, Photoshop users quickly broaden their knowledge. Narrated in an entertaining format by Photoshop experts and leading authors, their video-based Photoshop training titles are critical tools for anyone wanting to learn the latest Photoshop tips, techniques, and best practices from the most respected names in the business.

Visit the Total Training - Photoshop Training Page for free clips and a special discount code for an instant 20% savings. To redeem our exclusive discount coupon, use promotion code save20pss in your shopping cart. You could save hundreds of dollars. Use this special link to see the full offer.

Total Training For All Adobe Products
You can also view some free sample Dreamweaver and Flash Pro Video Tutorials


Free Adobe Dreamweaver video tutorials


Free Adobe Flash Pro video tutorials



Photoshop CS3 Upgrade Options And Bundles From The Adobe Store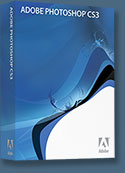 Photoshop CS3 Extended is ideal for film, video, and multimedia pros and for graphic and web designers using 3D and motion. Get the full version for US $999, or upgrade for US $349. The standard version of Photoshop CS3 is available for US $649, or as an upgrade for US $199. See all upgrade options at the Adobe Store. See our CS3 Resource Center for free Photoshop CS3 tutorials.

Photoshop Extended is also available as part of Adobe Creative Suite 3 Design Premium, which combines all-new CS3 versions of Photoshop, Flash Pro, Dreamweaver, Illustrator, InDesign and Acrobat 8 Pro. Upgrade options for customers in Europe, the UK, Australia, New Zealand and Asia can be found at the Adobe International Store.



Adobe Photoshop Lightroom Available At The Adobe Store



There are tons of new features in Adobe Lightroom 1.0 that you won't find in the beta version. From Clone and Healing functionality to metadata browsing, you'll be able to free-up post-processing time like never before. Get it now at the Adobe Store. Customers in Europe, the UK, Australia, New Zealand and Asia can find special pricing and offers at the Adobe International Store. For free Lightroom tutorials see our Lightroom tutorials page.



SiteGrinder Photoshop Plugin - Create Websites Instantly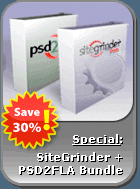 There often seems to be a strict division of labor within the world of web design and development. Creative professionals tend to stick to the Photoshop domain, while those well-versed in scripting are left to the task of implementing their work. Indeed, the two realms are quite different from each other, to which any of us even vaguely familiar with either can easily attest.

Essentially, Photoshop is a no-holds-barred design studio, offering the artist a seemingly endless array of creative options. On the other hand, HTML, CSS, Java and the like follow strict rules of engagement, requiring the developer to take any number of esoteric concerns into consideration in order to ensure that designs are properly displayed on the web.

Turn Photoshop Into A Complete Web Design Tool
SiteGrinder seeks to bridge this gap between design and development. Basically, this program turns Photoshop into an easy-to-use and fully functional web design tool. With SiteGrinder, designers will now have the freedom to totally let their creativity loose and then, without skipping a beat, transfer their designs to the web. Bringing esthetic concerns together with more practical considerations, this program is an amazingly powerful tool that would make a fantastic addition to any web designer's bag of tricks.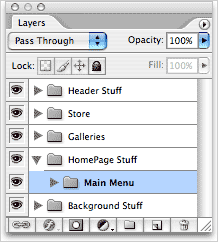 Generate Your Web Pages Directly From Photoshop
By generating web pages directly from Photoshop, you'll be able to spend much more time on the creative end of the spectrum, since you'll know right off the bat how well particular designs will translate to the web. No more going back to the Photoshop drawing board after getting a phone call from your development team, telling you that what you had envisioned doesn't have a chance of being displayed on the web. You can immediately visually and interactively test your designs, which permits you to then make changes to either esthetics or functions while it's still relatively early on in the design process.

Pricing and Availability
Mac OS X and Windows versions of the SiteGrinder unlockable demo are available now via download. SiteGrinder can be ordered from Media Lab's online store.



Photoshop CS3 Book - CS3 Essential Skills - By Mark Galer And Philip Andrews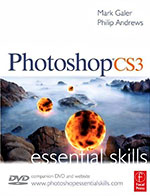 Brimming with beautiful pictures, Photoshop CS3 Essential Skills guides you through a project-based, progressive curriculum so that you can build all the essential skills to enhance photographs creatively and professionally with Photoshop CS3. If you are an aspiring professional, enthusiastic amateur photographer, or a student learning photography, digital imaging, art and design, or design graphics, you'll be amazed at the stunning results you can achieve. A DVD is included free.

The Essential Skills Photography Series from Focal Press uniquely offers a structured learning experience for photographers of all ages, with both the underlying theory and loads of invaluable 'how to' and real-life practice projects - all from the most talented photography practitioners/educators in the world.

Read 2 free sample chapters:


Adjusting Exposure in Adobe Camera Raw CS3


Photoshop CS3 Tutorial High Dynamic Range

Special book offer - save 24%


Photoshop CS3: Essential Skills (Amazon.com - $28.08 - save 24%)



Photoshop CS2 Book - Photoshop CS2: Essential Skills - By Mark Galer And Philip Andrews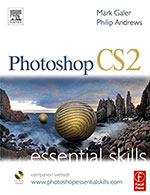 An inspirational and user-friendly guide to creative image editing, Photoshop CS2: Essential Skills provides direction for photographers and designers alike who have ventured into the realm of the 'digital darkroom.' The book offers a progressive curriculum to guide you through Photoshop with a series of clear, step-by-step projects designed to place knowledge into a practical context.

Whether you simply want to retouch an image, create a glamour makeover or create a highly sophisticated montage - this book will give you the essential skills to complete the work to a professional standard.

Read 2 free sample chapters:


How To Sharpen An Image In Photoshop — Advanced Sharpening Techniques


Working With Shadows In Photoshop - Advanced Shadow Techniques

Special book offer - save 37%


Photoshop CS2: Essential Skills (Amazon.com - $20.76 - save 37%)




PHOTO CREDIT: Full moon as seen from the International Space Station.